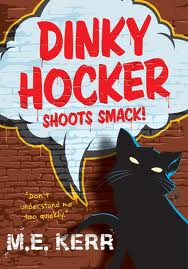 Oh, hey- I'm still alive.
I need a big favor. I have a couple friends who now have daughters ages 9-12, and I am trying to help their parents (my friends) find age appropriate books for them all. When I was a kid, my mother, an English Prof (so you know she cringes when she sees my typos and comma splices and run-on sentences that are basically a staple of this website), on top of teaching grammar and composition courses, also taught sports lit and adolescent literature. As the oldest kid, I was the clear beneficiary, because I read the entire Madeleine L'Engle collection by 10ish, the Chronicles of Narnia series by age 11, had the Hobbit under my belt by age 12, and by age 14 was working on the Thomas Covenant series by Stephen R. Donaldson. Age 14 was also when I found Richard Brautigan and Bloom County and all the other things I treasure to this day still.
But in the interim, between those years, I also read every book mom brought home or I picked up from the public library van that came through town every now and then. I am probably the only male at that time to ever read every single Judy Blume novel, and when I was 12 I was convinced that My Darling, My Hamburger was the filthiest thing I had ever seen in print. But I read them all. The Pigman, the Chocolate Wars, all the SE Hinton novels, Bang the Drum Slowly, etc. I read so many books my mom gave me that it changed me for life.
So here is what I am asking from you- help me change these young women's lives. Help me compile a list of books for them to read. Of course, things have changed in the past twenty years since I was reading the adolescent lit books, so updates would be welcome. But I would love it if you all could add your suggestions so I can buy these young women some books that will change them forever.
Thanks in advance. Also too, Brian's Song will make me cry every time. And yes, I had the best mother ever. She gave me all these books, played classical music and operas so I grew to love them (die Zauberflote is still my favorite with Rigoletto and Carmen a close second, and yes, Pavarotti was the king of the high C's), she made me listen to Buddy Holly and the Mama's and the Papa's, and yes, at least once every two months, we listened to an LP of the announcers announcing the greatest game ever played, the Colts vs. the Giants.
I grew up right.