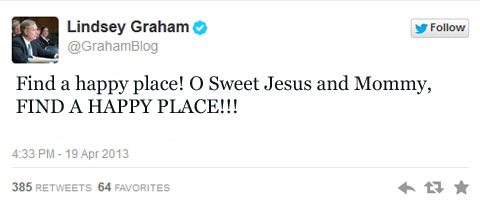 As more information comes to light about the Beantown Bombers, it becomes increasingly clear that Uncle Ruslan was right all along: The brothers were / are a pair of not-too-bright losers. Mother Jones offers a list of odd and stupid things the Boom-Boom Bros did that directly resulted in their death and/or capture. These items include leaving their carjacked hostage alone in the vehicle while they went into a convenience store for Red Bull and then failing to toss their escaped victim's mobile phone, enabling the cops to track their every move.
They're murderers, sure, but sophisticated terror kingpins? Please. And yet the very lawmakers who most frequently have to pause to wring the accumulated ball-sweat out of their much-humped personal copies of the US Constitution are now ready to torch that document because of the supposed existential threat posed by clowns like the Boom-Boom Bros.
Senator Lindsey Graham, perpetually trying to butch up sufficiently to head off a possible tea party primary challenge, took to the Senate floor yesterday to baldly declare a thought-crime and ethnic-caste standard that would eliminate due process for certain American citizens:
"Here's what we're suggesting, that the surviving suspect — due to the ties that these two have to radical Islamic thought and the ties to Chechnya, one of most radical countries in the world — that the president declare preliminarily that the evidence suggests that this man should be treated as an enemy combatant."
The "we" in that first clause includes Senator John McCain, the Hanoi Hilton survivor who is apparently transformed into a squealing candy ass at the sight of a teenage jihadi-wannabe's wispy moustache. Senator Kelly Ayotte rounds out the new neocon triumvirate in lieu of the departed Joe Lieberman. She's an improvement over her predecessor only in that her mouth isn't bracketed by alarming skin-pleats and she doesn't have a mewling voice that tempts listeners to drive chopsticks through their own eardrums to escape its range. But on foreign policy, she's pretty much Joe in a dress.
In the interest of civility, let's assume that these three and their fellow Republicans aren't corrupt, cynical hucksters who are attempting to transform the blood of innocent people into political gain. So they must be cowards instead, sniveling, bed-wetting chicken-shits who are ready to toss our national experiment with free speech and equality before the law into the toilet and hide under the nearest rock — and not before the very real and powerful threats arrayed against it from within and without, but before a pair of moronic clowns like the Boom-Booms. Some "Daddy Party."
[X-posted at
Rumproast
]