I usually think well of Garance Franke-Ruta's work over at The Atlantic, so what follows isn't so much a "pox-upon-her-house" screed as it is a cautionary tale.
Vice President Joe Biden came to my patch yesterday,  MIT, to play his familiar role as consoler-in-chief at the memorial service for Sean Collier, the MIT police officer murdered last week.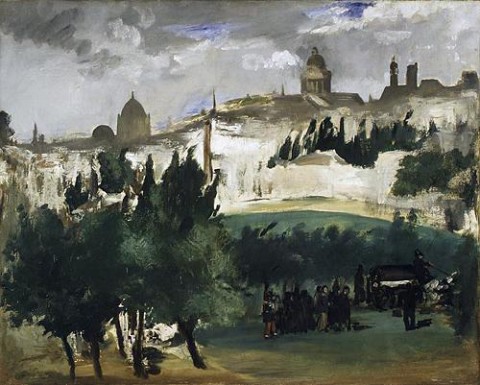 His speech was vintage Joe, powerful, direct, colored by emotion expressed bluntly, clearly, without (seeming)* artifice.  It was aimed carefully — if you actually listened —  towards at least two audiences: not just the sea of police and students spread out before him, but also the Republican party, and the American people beyond.
That's what Franke-Ruta missed as she chased a tired meme.  Hers is the artless Joe, who genuinely, if perhaps a little embarassingly, is all raw heat, no reflection — the administration's "id" as her headline would have it.  The comparison to be drawn is obvious, and Franke-Ruta does so in her first sentence:  Joe's the man with real-people responses, which  his boss, the President is too cool (read, not quite human) to deliver.  From there, her analysis dives even deeper into conventional wisdom:
Today's example was Biden unleashing a stream of wholly warranted invective at the Boston Marathon bombers. Speaking at memorial services for slain M.I.T. police officer Sean Collier, he called bombers Dzhokhar and Tamerlan Tsarnaev "two twisted, perverted, cowardly knock-off jihadis."…

Some asserted he was insensitively diminishing the attack by calling the attackers "knock-off." But there was no question that in repeatedly calling the suspects "perverted jihadis," Biden was once again taking on his designated role as senior administration official who gets to sling it.
Fortunately, Franke-Ruta posted a video of part of Biden's speech, so her readers could check her exegesis.  Listen, and you'll certainly hear Biden excoriate the Tsarnaevs.  But the guts of his argument are to be found in what Biden said next, about the right — and wrong — ways to respond to the acts of terrorists, hard core or mere knock-offs:
The truth is on every frontier, terrorism as a weapon is losing…and what galls them the most is that America does remain that shining city on a hill. We are a symbol of the hopes and the dreams, the aspirations of people all around the world…our very existence makes the lie of their perverted ideology.

So the only way they can gain ground is to instill fear that causes us to jettison our values, our way of life, for us to change.  The moment we change, the moment we look inward, the moment we get in a crouch and are defensive, that's the moment they win. What makes me so proud of this great state, and the city of Boston and Cambridge and all those involved and the students on this campus, what makes me so proud to be an American is that we have not yielded to our fears; we have not compromised our values, we have not weakened our constitutional guarantees. We have not closed our borders.
I can surely argue that some of that is more aspirational than hard fact.  Post-9/11 and continuing into this decade, we have yielded some guarantees.  We have allowed our fears to legitimize laws like the Patriot Act, to allow torturers to thrive in our dark rooms, to sink to force feeding prisoners starving themselves to escape the legal purgatory that incarcerates without providing any avenue for either exoneration or certain punishment.
But Biden did limn a present realit as well, in that we still live in a country where a ruling like Hamdan v. Rumsfeld can be both heard and decided against the government.  I live in a town where  police officers tackled a cop-killer in the midst of a gun battle, in the hopes of keeping him alive long enough to face a court.  Here in Boston, Dzokhar Tsarnaev was charged as a common criminal, read his rights (not fast enough for some, but still) and will in fact face civilian charges.  This country are so far from perfect it sometimes feels like we're can only approachperfection  the long way round — but that's in the nature of cities on hills.  I'm pretty sure Joe had something like this in mind when he spoke yesterday.
And I have next to no doubt at all that he was scolding that claque of Republican leaders who seem to have lost all courage, John McCain, Lindsay Graham, Kelly Ayotte, and all the rest.  They've been up on their hind legs since Friday,  bellowing the urgency of making sure Tsarnaev face  a jury-rigged military tribunal system, and damned be the American constitutional system and any faith in the power of a jury of Americans to do and be seen to have done justice.
That rebuke is what this speech was about, beyond the pure duty of comfort that Biden handled so well in the first, longer section of his remarks.  He was telling a failed Republican party that America is something other than hollow republic the Bush-Cheney regime sought to build.  He was as well talking to the broader audience through the TV set, making the case (again!) that there is an alternative to a government based on authority granted out of fear.  He was reminding everyone in earshot that the way the Republicans ran the republic — and would do again, if they get the chance — is not just an error; it's un-American.  This was powerful stuff, and inside the political ring, it was had the power to hurt, a nut-cutting blow.
That is to say:  who cares if Biden used the phrase "knock-off," or uttered in public the word "perverted?"  Franke-Ruta's gnawing away on those old bones is a failure of reportorial nose, a misjudgment that obscured the real story right in front of her.
As I said at the top of this post, I don't think Franke-Ruta's a bad journalist, not at all. So I take her whiff as an indication of what it costs when you live inside a thought/media/opinion bubble, at the heart or even the outskirts of the Village.  Our Village elders have focused on atmospherics so long (who'd you like to have a beer with, or did he say "terrorist" and such nonsense) that it becomes harder and harder for them —  or their juniors, wallowing in the same mire — to hear, actually to notice, what's happening right in front of them.
One last thought:  it doesn't even take malice, nor is it a mark of stupidity, sloth or professional incompetence to fall into this trap.  Group-think happens not because (or not only because) Roger Ailes sends down a memo.  It's a natural human trait to pay attention to those who do what you do, or hope to.  Reporters read other reporters.  They — we, for I sometimes commit acts of journalism — drink at the same bars. We talk — just like everyone else.   We've all, I think, experienced us doing this to ourselves in some context or other.  The failure comes in the inability to acknowledge the risk, and to take conscious action to challenge it.  There's a lot of that going round these days.
*Biden — and his speech writers, of course — are not amateurs.  He's a pro, and a much better master of rhetoric than often given credit for (see above).  His speeches are what they seem — expressions of his thought and feeling.  That doesn't mean they aren't crafted — which is no bad thing.  As John Kenneth Galbraith is rumored to have said "the treasured note of spontaneity critics find in my work usually enters between the sixth and seventh draft.")
Image: Édouard Manet, The Funeral, ca. 1860.