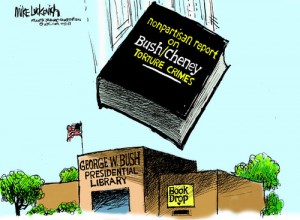 (Mike Luckovich via GoComics.com)
… Despite my and Bar's fervent wishes. Alex Pareene thinks the fooferaw over the manure locker is not so much about Fortunate Dim Son, but the "Bush family furiously selling itself to Americans once again":
… After presidents are done being presidents, they get to build big museums about themselves, because a tradition that originally involved simply making the documents and papers and records of a president available to researchers and the public obviously became this giant, expensive, pseudo-regal tribute thing, because this is America and we're really weird about presidents.

Every president gets a library, even the bad ones. Nixon's library is supposed to be a pretty cool place now that the National Archives people are running it instead of his surviving cronies. For some reason Ford — Ford! — has a library and a museum. Like, separate buildings in different cities. The Bush library so far sounds terrible, dishonest and hilarious, just as much of the coverage surrounding its dedication has been. (It will likely get more honest with time, as the National Archives people fix the hagiography the Bush Foundation people created.) At the library opening ceremony, the current president has to say nice things about the last president, even if the last president was a terrible president…

The orchestrated rehabilitation of the Bush name isn't just happening because of the library. It's also pretty urgently politically necessary. George P. Bush, the president's nephew, is running for statewide office in Texas in 2014. (P. Bush is apparently terrible at giving speeches and is utterly unable to answer questions from the press so he will obviously be president one day.) Texas is friendly territory for a Bush. The country at large, one poll notwithstanding, isn't yet. Bush's brother Jeb desperately needs it to be, because he plans on running for president in a few years.…
One reason you can already start despising Jeb Bush: Terri Schiavo.
Also, thanks to commentor Hal, Steven Rosenfeld at Jezebel has a meticulous list of "50 Reasons You Despised George W. Bush's Presidency" — and the commentors are coming up with even more…