Been a busy week, so I guess one of the more amazing bits of deeply serious contrarian lunch-box "liberal" punditry just slipped through the cracks, (at least for me). But today, via Chris Clarke, writing at PZ Myers' place, I finally learned that yes, Matt Yglesias did say that Bangladeshi workplaces are appropriately more deadly than those in the US:
Bangladesh may or may not need tougher workplace safety rules, but it's entirely appropriate for Bangladesh to have different—and, indeed, lower—workplace safety standards than the United States.
The reason is that while having a safe job is good, money is also good.
There are lots of ways to gut the "thinking" behind those words — and many of them have  had a work out [LOOG!] on the 'tubes, [Chris Clarke, again] to be sure  — so for here I'll just note that one of the things that Yglesias elides in that passage (and the rest of the post, and his next thoughts on the subject) is that the Bangladeshi economy — and ours — do not exist in hermetically sealed isolation chambers. There are real costs we and the Bangladeshi's pay in the game to seek the lowest possible labor rates — a price both economic and moral, paid not just over there, but here too.
That leaves aside the baseline question of just how much economic misery would be too much even for a MOTU, or a  former philosophy major, to impose in the name of untrammeled free trade?  Children may well prefer under-nutrition in exchange for all-daylight-hours of labor to absolute starvation.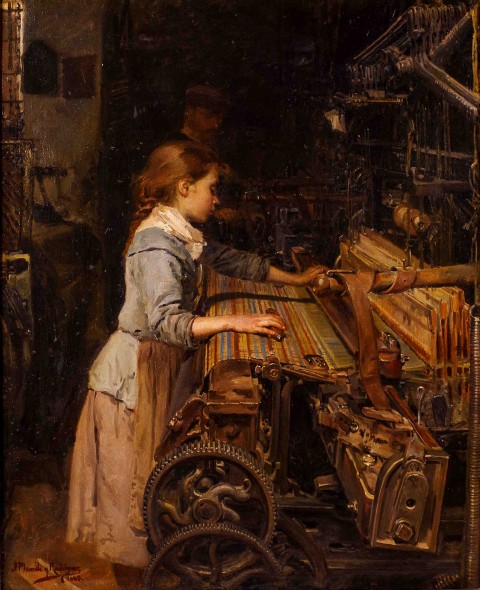 Slaves as economically useful units generally may expect care and feeding (when oversupply doesn't render the cost of upkeep to onerous for the job creators)…and so on.  Where does Yglesias draw the line, if he does — and should he do so,  what possible moral system allows one to inscribe as freaking low as his scribblings on Bangladesh would imply?
With that — over to you.  Y'all have a reputation as a pack of snarling, vitriolic something-or-others.
Prove it.
Image: John Planella i Rodríguez, Weaver, (La nena obrera) 1889.