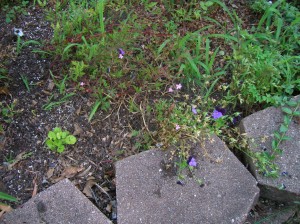 .
Finally got to the garden center last weekend, so I've been transplanting pansies/violas, allysum, and a couple species geraniums into the raised beds and hanging planters. Found a Patriot blueberry bush (which may eventually be too tall for the raised bed), and a new creeping variety called Peach Sorbet as well. Not a very well-matched duo, but mine is a very cottage garden — which, before the marketers got their hands on the concept, meant "a riot of estate leftovers, transplants & give-aways crammed in any-which-way".
This weekend's specific project has been dragooning the Spousal Unit into helping me hack down the Little Barbie mini-rose climbers along the front line of the yard, which have regularly overtopped their six-foot obelisks and stretched out to snag innocent passers-by. Now they're poor little knee-high stubs of their former glory, and I've got a mild case of gardners' remorse for fear they won't rebound. Which would make the Spousal Unit happy (he's not a fan), but even though they're viciously thorned and practically scentless I love how they explode with popcorn-ball bunches of self-cleaning blossoms several times every summer, through rain or drought or the year the hardscapers hammered a granite-block edging within inches of their roots and then ran hot asphalt paving…
And Rocket the new cat has impinged on my gardening endeavors, again, by eating the fingertips off my favorite gardening gloves. We were warned he had a fondness for cloth-chewing, but I didn't expect him to sneak downstairs and attack my dirt-encrusted, sweat-scented leather gauntlets, the evil meezer.
So… how are things looking in your gardens, right now?
.