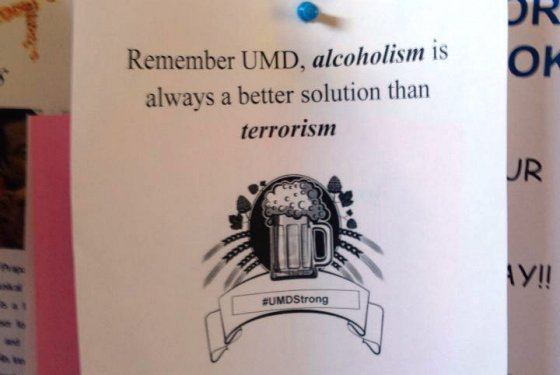 .
Stolen from NYMag, who stole it from Reddit: Advice to Dzhokhar Tsarnaev's fellow collegians at UMass-Dartmouth (aka, "not that Dartmouth").
Back in the mid-1970s, when I was working for a large Midwestern state college, a Libertarian acquaintance had the bold, paradigm-shattering idea to run for a city council spot on the twin platforms of banning alcohol (18-year-olds were allowed to drink, in those primitive days) and encouraging nuclear-powered industry. Yes, we did try to explain that "Free beer, no nukes" would have been a much better slogan than "Free nukes, no beer"…
Apart from such fruitless endeavors, what's on the agenda for the evening?