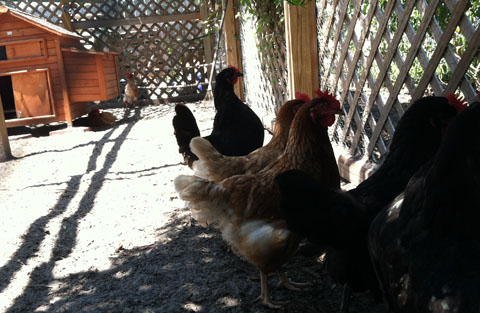 I am having such a shitty day. My husband is away on a business trip, which is thankfully a rare occurrence because 1) I miss him, and 2) I have to serve as sole child, dog and chicken wrangler, gardener, chauffeur and egg and vegetable collector in his absence.
To add to the unhappy mélange, I've got an electrician poking about the breaker boxes trying to figure out why the air conditioner isn't working. (The A/C people have come and gone after indicating it's an electrical problem.) Luckily, we're enjoying mild weather at the moment, so at least I'm not hot and miserable PLUS looking at a bill that is already around $600.
The electrician keeps coming up to me with dusty metal parts and trying to explain why the bill is climbing into the stratosphere, and I nod politely, but the truth is it might as well be sorcery as far as I'm concerned. I am utterly clueless about that shit.
Anyone have any good cocktail recipes to share? Those involving tequila or vodka are especially welcomed.
Also, since I missed John's thread last night about crappy actors, allow me to agree wholeheartedly with Rikyrah that Helen Hunt is over-hyped. I'll take it further and assert that she is flat-out dreadful.
In that thread, some of y'all were ripping on actors whose range runs from comatose to somnambulant, and I agree with many of your criticisms (Andie MacDowell – dear god, why?). But even actors with a bad case of flat affect can serve as a May pole around which the rest of the cast dances.
Helen Hunt is much worse than them because she actively ruins movies. I read the book "Then She Found Me" years ago and thought it was a light, cute, fun little story. I noticed the title on Netflix awhile back and thought I'd watch the movie version, overcoming my strong misgivings when I saw Helen Hunt's name in the cast list. Well, in less than 10 minutes, thanks to Helen Hunt, I decided that I rather munch on a roll of tinfoil than watch another second.
Oh, and Doctor Who fucking ROCKS. I pity those of you who can't appreciate the genius of that series. The end.