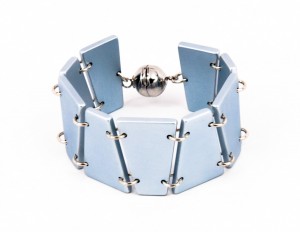 The fools who paid for the Atlas Shrugged movie are making jewelry, just in time for Mothers' Day. (via). This grotesque artifact is made of anodized aluminum, the stuff dreams are made of, if you dream on the cheap, though it's called "Rearden Metal", which I thought was only reserved for cock rings in the Randian world.
I've just seen clips of the Shrugfest films, but they all look like they were produced by Stalin's favorite pornographer. This bracelet in particular looks like something Trotsky would have sent home to his babushka to memorialize the sacrifice of the noble workers in the Siberian bauxite mines.
I'd call the Hollywood Galtians' aesthetic "fascist", but that would be an insult to Hitler and Mussolini, who actually had a bit of flair and style. If Leni Riefenstahl were alive today, she'd spit on the floor as she walked out of these movies.