For all the Greek haters out there (not you, Angela Merkel), here are two great pics of my guys: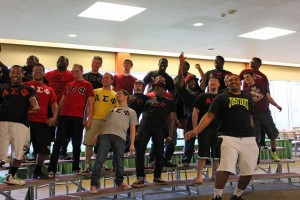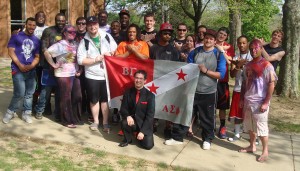 The first picture is from Greek Week, where all the frats and sororities compete all week long in a number of events (athletic events, trivia night, etc.), and there they are participating in Greek Sing.
The second picture is from two hours ago. Bethany College is one of a very few colleges in the nation that has written and oral comprehensives the last week of school for seniors, and they are basically grilled on their major. If they fail written or orals, they do not graduate, so it is really a big deal. Traditionally, a couple close friends wait outside for the person to come out of their oral comps, at which point they will know if they graduate or not. My guys are close and love each other, so basically the whole house showed up to cheer the fellow in the suit after coming out a newly minted soon to be graduate and give him a chorus of "For He's an Alpha Sig."
Like I said, I have good kids, and I will take no shit from people issuing blanket condemnations about greek life. It can be a really, really, positive thing. I love these kids and it is so rewarding watching them develop the same kind of lifelong friendships I formed two decades ago as a brother.