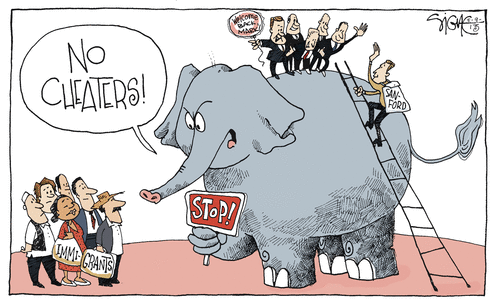 (Signe Wilkinson via GoComics.com)
.
Smartest thing I've seen about Sanford's win so far comes from Ed Kilgore at the Washington Monthly:
…I will say that Busch's defeat shows once again that the old southern white Democratic formula of moving as far to the right as possible and hoping to win a personality contest just doesn't much work anymore, which is why the ranks of the Blue Dog southern white Democrats in the House from the Deep South have dwindled to near nothingness… At a minimum, any southern Democratic revival is going to depend on candidates who can get reliable Democratic voters enthused enough to turn out when the presidency is not at stake.
Gail Collins is a professional political humorist, and therefore one of the few sane people pleased to see Mark Sanford in public office again:
… One surefire result of this special election will be a plethora of Republican candidates debating cardboard versions of Nancy Pelosi next fall. It looked stupid when Sanford tried it, but, by gosh, it really did seem to do the trick. To be fair, Sanford's opponent, Elizabeth Colbert Busch, didn't seem to come out in public very often, and he needed to argue with somebody. However, the demonizing of the House minority leader has its limits. Pelosi's own opponent last year ran a very exciting ad depicting her as the queen of a zombie cult, and it had no effect whatsoever.

Everybody got excited about the South Carolina race when, at one point, Public Policy Polling showed Colbert Busch nine points ahead. Clearly, that wasn't the case, and, in retrospect, I'm afraid we may have to revisit the P.P.P. poll last year that showed that 15 percent of Ohio Republicans believed that Mitt Romney had killed Osama bin Laden.

In the end, Sanford's victory was just about a very Republican area picking a Republican member of Congress. South Carolina's Republican mapmakers have spent eons stuffing as many Democrats as possible into the House district represented by Democrat James Clyburn in order to keep the other six districts as deeply red as possible. Their party controlled the seats anyway, but you never knew when there might be some emergency, like a special election with a Republican candidate who was due in court two days after the balloting to answer charges of trespassing at his ex-wife's home…

Nobody outside the state seemed terribly thrilled by Sanford's political resurrection. The National Republican Congressional Committee, which has a tolerance for screwing up that's notably less extensive than God's, had wiped its hands of his campaign awhile back. Gabriel Gomez, the Republican candidate in Massachusetts' special Senate election, called him "pathetic." And the House leadership needs another Tea Party zealot the way it needs another vote to repeal Obamacare…

So, Representative Mark Sanford. Where do you think he'll live? Sanford was in the House once before and he slept in his office. This was possibly about staying close to his work but more likely about the same qualities of thriftiness that caused him to give his then-wife a $25 used bicycle for Christmas and her birthday combined. And what committee do you think he'll serve on?

Please God, let it be Foreign Affairs.