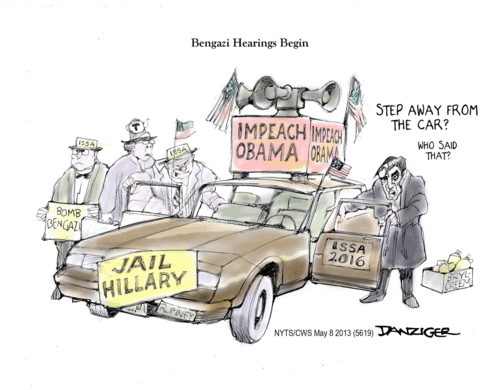 (Jeff Danziger's website)
.
Most unlikely sighting of the week, by NYMag's Kevin Roose:
As a chief architect of the Dodd-Frank financial regulation law, former Massachusetts congressman Barney Frank was a bit of an odd sight at SALT, the giant hedge-fund confab in Las Vegas. Many hedge-fund managers openly detest Dodd-Frank, which increased transparency requirements for hedge funds and other private investment firms and generally made Wall Street a less lucrative place to work.

"He's like Daniel in the lion's den," one fund worker said of Frank's trip to Vegas.

Still, on Thursday morning, after finishing up a SALT panel with former politicos Harold Ford Jr., Karl Rove, and Scott Brown, Frank was in high spirits.

"I don't feel like Daniel at all," he said, while husband Jim Ready dabbed at his made-up face with a moist towelette following a CNBC hit. "Daniel was afraid of being bitten and clawed. It never occurred to me that I was going to be bitten and clawed here."…

Last night, Frank was spotted at SALT's Latin-themed pool party at the Bellagio, mingling among showgirls in feathers, a cigar-rolling station, and busty servers in halter tops. Asked whether the bacchanalia on display at SALT meant that his efforts to humble Wall Street after the crisis had failed, Frank sniffed.

"We weren't trying to humble anyone," he said. "We want them to be more careful."

Part of the reason Frank is such a divisive figure at SALT is that for hedge-fund managers, the introduction of Dodd-Frank has often meant having to hire extra accountants and lawyers to comply with new reporting requirements. Frank said that, judging from the expensive surroundings on display in Vegas, the industry is doing just fine, even with the added compliance costs.

"I think it shows they haven't been severely hurt," he said…
Gods bless our Barney. I wonder if he looked at his three co-panelists and thought about the old quip — "Here's See No Evil, Hear No Evil, and Evil"?