If it were just a matter of Texans killing Texans — with the victims embracing their fates — then I might be willing to let it all go with an "everyone to hell in their own handbasket"  reaction.  But, of course, the generalized Gresham's Law tells us what follows from this kind of thinking:
Five days after an explosion at a fertilizer plant leveled a wide swath of this town, Gov. Rick Perry tried to woo Illinois business officials by trumpeting his state's low taxes and limited regulations. Asked about the disaster, Mr. Perry responded that more government intervention and increased spending on safety inspections would not have prevented what has become one of the nation's worst industrial accidents in decades…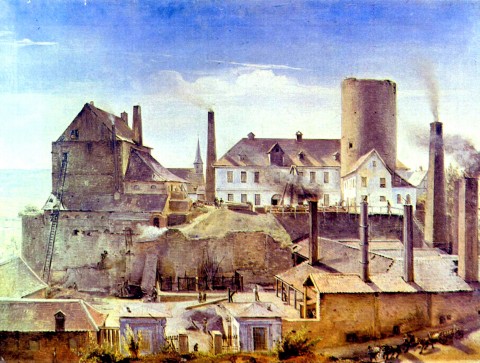 This antipathy toward regulations is shared by many residents here. Politicians and economists credit the stance with helping attract jobs and investment to Texas, which has one of the fastest-growing economies in the country, and with winning the state a year-after-year ranking as the nation's most business friendly.

Even in West, last month's devastating blast did little to shake local skepticism of government regulations. Tommy Muska, the mayor, echoed Governor Perry in the view that tougher zoning or fire safety rules would not have saved his town. "Monday morning quarterbacking," he said.

Raymond J. Snokhous, a retired lawyer in West who lost two cousins — brothers who were volunteer firefighters — in the explosion, said, "There has been nobody saying anything about more regulations."
I'd be surprised, except for the fact that there's nothing out of the ordinary here, if you look at matters like a (certain kind of) Texan:
Texas …is the only state that does not require companies to contribute to workers' compensation coverage. It boasts the largest city in the country, Houston, with no zoning laws. It does not have a state fire code, and it prohibits smaller counties from having such codes. Some Texas counties even cite the lack of local fire codes as a reason for companies to move there.
Hold on a moment there, buckaroo!  No fire codes? That's a reason to locate in Texas?
I guess the goal here is to reduce the incovenience of contracting with Bangladesh.
Seriously — if you think it an act of social responsibility to demand clothing retailers to demonstrate proper work place safety for their imports, shouldn't we demand the same of, say every oil and gas company, refiners and all, that deliver products from Texas to the rest of these United States?
Anyway — guess the inevitable consequence of such "pro-business" concern. No prize for correct answers:
But Texas has also had the nation's highest number of workplace fatalities — more than 400 annually — for much of the past decade. Fires and explosions at Texas' more than 1,300 chemical and industrial plants have cost as much in property damage as those in all the other states combined for the five years ending in May 2012. Compared with Illinois, which has the nation's second-largest number of high-risk sites, more than 950, but tighter fire and safety rules, Texas had more than three times the number of accidents, four times the number of injuries and deaths, and 300 times the property damage costs.
As I said at the top…if this were a problem for Texans alone then there is a part of me that says that they voted for this government (and regulatory regime), and they should enjoy what they've gotten — good and hard.  But (a) this ignores the fact that those most at risk are those with the least access to the levers of power, and even in a deep red state like this one, there are lots of folks who don't want to be blown up in their back yards.  Some solidarity seems in order.
More broadly there's (b):  Texas's drive to hold harmless private businesses for any consequences of their decisions puts pressure on every other state.  There are alternatives, and lots of non-feral players recognize that there's more to a positive business climate than crap schools, an immiserating approach to health care, a failure to provide worker and public safety, and an incentive structure that rewards environmental malice.  But to the extent that Texas is successful in attracting enterprises to its let-any-harm-happen frontier, the downward pressure on other states exists.  Bad laws, bad regulatory frameworks drive out good, just like Gresham could have said.
National Republicans are, of course, complicit in this drive to put ever more Americans at risk.  In the context of weak state protection for its citizenry, the onus falls on the federal government, through agencies like but not limited to OSHA and EPA.  But they aren't meeting that task, and won't.  There are lots of reasons why not, including some an Obama administration could address (and that we should push for), but a big part of the reason lies with the long-running effort by the GOP to hollow out government from within.
So, yeah, Texas remains too small for a country and too big as an asylum.  I know it's a near impossible task to imagine dragging it, kicking and screaming, into the Century of the Anchovy.  But for our own sake, if not for theirs, we gotta try.
The first step is to remember:  Factio Grandaeva Delenda Est.
Image:  Alfred Rethel, The factory Mechanische Werkstätten Harkort & Co, c. 1834