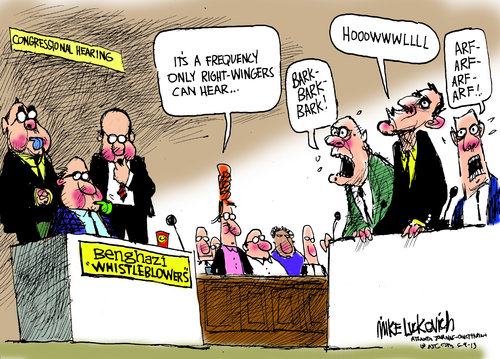 (Mike Luckovich via GoComics.com)
.
Dave Weigel on "Why Mitt Romney Was Never Going to Win the 2012 Election Over Benghazi":
…[W]hy are Republicans convinced that this would have altered the election? Four Americans died in the attack in Benghazi. For the first time since the Carter administration, a diplomat was among the fallen. That was unspinnable. That did a certain amount of damage to the Obama campaign, like it should have. Where Hannity et al lose people is on the "cover-up"—why would the phrasing of talking points have ended the outrage? Why, because the administration was telling voters that the death of Osama bin Laden effectively ended the War on Terror, and that there was nothing new to fear, so we could go on not talking about "Islamism" and be perfectly safe.

This was never going to work. We learned why, not during the election, but during the weeks around the George W. Bush Presidential Center dedication. Bush, you'll remember, was president during the deadliest terrorist attack ever on American soil. Yet Bush's defenders credited him with Keeping America Safe. How? As Jennifer Rubin put it (though you could quote one of dozens of pundits), "there was no successful attack on the homeland after 9/11" while Bush was at the wheel.

This is mockable (Charlie Pierce calls it "the great mulligan") but astute. Bush got re-elected on this theory. Americans are fretful about terrorism only to the extent that it might kill them in America. The Bush-era response to terrorism led to two fitfully successful land wars in central Asia, with thousands of military deaths; more relevantly, when we're talking Benghazi, the Bush years saw 64 attacks of varying scale on American diplomats and embassies. None of them hurt his re-election. A terrorist attack of the same scale in, say, Indianapolis would have. Not overseas.
One of the men who died at Benghazi grew up in the greater Boston area; his life and death were given quite a bit of attention in the local media. But it was very much the same sort of coverage given to local men and women who died while serving in the military, in Iraq or Afghanistan or elsewhere — a terrible event, one for which the perpetrators should be sought out and punished, but in no way unimaginable or even unpredictable. He had been a warrior; he died 'fighting for America', as will happen in wars.
Republicans have spent the last thirty years, at least (it was very much received wisdom by the time Reagan was elected) telling Americans that the world is a terrible place, full of random horrors and violent strangers, and that nothing from Outside could be considered trustworthy. As a result, Joe Average (Non) Voter is more than happy to accept that it's better to visit Disneyworld or Las Vegas — or, for a truly exotic experience, maybe a nice Carnival cruise — than to risk stepping outside the Real American bubble, where you can't trust the water or the natives. Now Darrel Issa and Sean Hannity would like JA(N)V to be outraged, shocked that four brave /misguided Americans went out into the World of Hurt and got eaten by dragons. Not an easy sell.