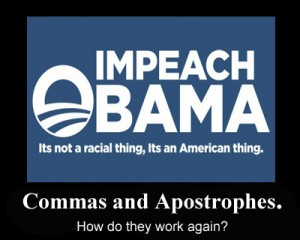 Alex Pareene at Salon has an entertaining rundown of the three "scandals" that could supposedly lead to the impeachment of the president: Benghazi, the AP phone logs and the IRS-Tea Party thing.
Pareene figures the Benghazi issue is kaput because the GOP stupidly focused on meaningless talking points on Sunday shows rather than the real issue, which was inadequate security. And since austerity-humpers in the House were slashing security budgets like Fruit Ninja addicts in Arcade Frenzy mode, it's a good bet they don't want to go there. That and the preening Sunday performances of would-be soap opera stars like Senators McCain and Graham led the GOP to focus on the dud aspect of the Benghazi affair, soiling a once-promising bit of dirty laundry.
Likewise, Pareene points out that while the AP logs issue may have a built-in advantage due to its implications for the very media that would be charged with ginning up impeachment-level outrage, the GOP can't claim clean hands there either: The Republicans are the ones who demanded that the administration investigate the leaks that led to the AP investigation in the first place. And the GOP isn't really opposed to spying on reporters, at least if Republicans get to do it sometimes. This might lead to another brogressive boner for Rand Paul, but perhaps nothing more.
According to Pareene, the jackpot scandal has got to be the IRS-Tea Party thing because, even if, as seems likely, no one at the White House knew about it, it's the "conservative movement's dream scandal." True, but there's another factor in its favor that Pareene didn't mention:
Even though anyone who was paying the slightest attention should have immediately known that the Tea Party was the rebranded rump of the Bush dead-enders, Beltway pundits clung to the absurd notion that it was a genuine grassroots movement. And they cling to it still, like turds to a moth-eaten pair of faux-Colonial breeches.
Here's Dave Weigel at Slate, who really should know better, launching a touching narrative about how the big, bad IRS crushed these credulous patriots:
Tom Zawistowski lived the classic Tea Party origin story. He started a business. He raised a family. Then came 2009 and the Obama presidency, and he discovered politics from the couch of his Portage County, Ohio, home.

"Quite frankly my wife and I were apolitical people," he remembers. "Glenn Beck was on TV, and we were learning things we didn't know. There was a Tea Party rally scheduled in Cleveland, and the local media was bagging on them. If nobody showed up at the rally, it really would have hurt, you know? So we called every registered voter in Portage County, and people showed up."

One meeting at a Cracker Barrel later and boom, a local Tea Party group was born…
Weigel goes on to liken a requirement that these politically motivated So-Cons in patriot drag fill out a form with having a cage full of rats attached to their heads a la 1984's Winston Smith in Room 101. A break, Mr. Weigel; please fucking give me one.
Anyhoo, the fact is that after their Citizens United triumph, the GOP in effect put IRS offices in charge of ascertaining whether obvious political operatives were cloaking themselves sufficiently to enjoy tax-exempt status. Does the GOP House really want to spotlight that Republican-sponsored shit-show so that the rest of the country starts paying attention? It wouldn't be the first time they shat in their own hats, but I doubt it goes that far.