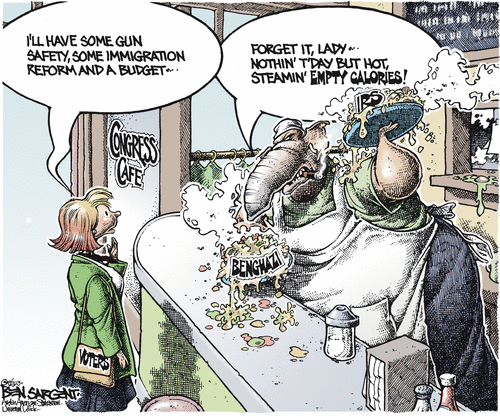 (Ben Sargent via GoComics.com)
Greg Sargent makes the glass-half-full argument:
… Liberals who are dreading the scandal-mania that is taking hold should note that it contains a potential upside: It could make a Grand Bargain that includes cuts to Medicare and Social Security benefits even less likely than it already is. That's because when scandal grips Washington, a president actually needs his core supporters more than ever to ward it off, making it harder to do anything that will alienate them.

There is precedent for this. President Bill Clinton long entertained ambitions to dramatically reform Social Security, but those plans were shelved amid the Lewinsky crisis. While there is some argument over whether the crisis was the cause, it did make him more reluctant to alienate Democratic supporters…

To be sure, the current state of scandal mania in Washington is still light years away from the late 1990s. There's no telling how serious the IRS and Associated Press stories will prove or whether they'll ever be directly tied to Obama himself, while Clinton was directly on the hook for perjury and sexual conduct. But if the Obama scandal train continues down the track — as Paul Waldman argues persuasively that it will — it will likely make any Grand Bargain a virtual impossibility…

In Obama's case, the dynamic is exacerbated by the current strain of GOP radicalism. While there was some bipartisan agreement behind cutting Social Security in the 1990s, the absolute refusal of today's Republicans to entertain any new revenues from the rich already makes a Grand Bargain very unlikely, and the Obama hatred on the right — and the belief that he may go down — makes it even more so…

Indeed, some on the left are hoping that the current bout of scandal chatter drives home to Obama the true nature of today's GOP and induces him to give up hope on any kind of deal. We've already seen that GOP extremism on taxes has prevented any Grand Bargain — in effect saving Obama from making entitlement cuts — and that could be borne out again if the scandal-mania continues….
In combination with the news that, per NYMag, "The CBO's new budget projections (PDF, warning: dense) are out, and the upshot is that despite the frenzied warnings of impending Armageddon by Erskine Bowles, Alan Simpson, and the rest of the deficit-hawk brigade, the federal budget is actually in better shape than we thought", perhaps the Repubs will allow themselves to be distracted from their austerity-bombing plans while they hunt through every West Wing closet in search of jackboots and nannycams?