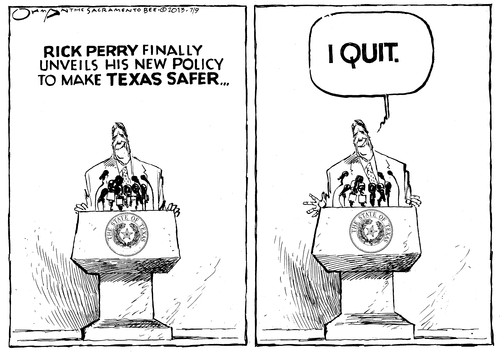 (Jack Ohman via GoComics.com)
So, in case anyone wondered why the Governor of Texas had just rediscovered his inner Savonarola, the latest next-time-for-sure happytalk from America's Revanichist Party pretends Perry's a contender in 2016. Yet DFHs are not afeared, as per Alex Pareene:
… Perry is not going to seek a fourth term as governor of Texas, a high-status, low-authority gig that he has worked at longer than anyone else in history. The next governor will likely be Texas Attorney General Greg Abbott…

Perry isn't just going to go away, or at least he doesn't intend to. He is not going to put on a stupid hat and retire to a ranch that was until very recently named something unspeakably awful. He is going to run for president. Because once a sufficient number of people have convinced an egomaniac that he would be a very good president, it's hard for that egomaniac to let go of that dream, even after a bunch of voters do everything they can to discourage it.

In 2011, we in the rest of America were told to look out for Perry, that he was savvy, a brilliant politician, and that he'd be totally irresistible to the electorate once he made his inevitable decision to run for president. He turned out to be a dunce, completely incompetent at basic tasks like "debating" and "public speaking."… No one in 2016 will be particularly frightened of him, and he also probably won't have the luxury of running against a field made up entirely of clowns and a front-runner no one in the party actually liked.
As the lawyers say: Assumes facts not in evidence. But still.
He's amiable, decent-looking, and right-wing enough to suit the modern Republican Party, but he is also a bit of an idiot and nothing about him appeals to anyone outside his state. Republicans aren't interested in him anymore, even in Texas. Public Policy Polling (a liberal shop, but still) has Hillary Clinton beating Perry 50 to 42 in a potential presidential contest. A University of Texas/Texas Tribune poll showed Texas Republicans preferring Sens. Ted Cruz, Marco Rubio and Rand Paul over their finally outgoing governor. And if they don't want him there's no reason to suggest Republicans anywhere else will want him. "Vote for your dumb right-wing dad" won't work any better in 2016 than it did in 2012….
Charles Pierce:
… What does Perry have to recommend him now that he didn't have in the late summer of 2011, when he completely obliterated Michele Bachmann's victory in the Iowa Straw Gooberfest? More uninspected, deregulated exploding fertilizer plants? He'll be taken seriously for a while because he's white, a Republican, and possesses a penis, but that won't last. He's still the guy who wanted to give illegal sponging wetbacks a complimentary college education. Forget his later stumbling and bumbling. That's what killed his campaign with Republicans, and it looks as though, against all odds and logic, The Base wants a tougher line on that issue. No, Goodhair, your time, if it ever was, has passed.
Apart from smacking around the old pinata one more time, what's on the agenda for the evening?