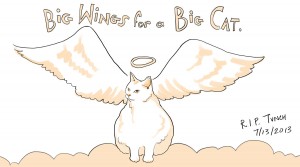 You guys are the best, seriously. I just got an email from Evelyn at MARC:
Hi John,

Just heard back from MARC in just 24 hours, BJ folks have made over 250 donations totaling over $7,750 dollars and donations are still arriving…They will give me another update total tomorrow.

They are so very grateful for the generous donations that they so desperately need.

And what a testament to you and Tunch from the BJ folks and how much they care for you.

Thanks again so much,
The idea that Tunch's untimely and violent death is going to save so many animals and give so many cats and dogs the opportunities to live in loving forever homes has sparked another round of tears, but in this case, happy ones. I can't than you all enough.
Thanks to the other Evelyn for the great picture of Tunch.