I've been holding off on this for a little — didn't want to snark John before there was real reason to believe he might think life worth living again.  Now, with Not-Mongo in the fold, I have hope for our fearless leader.
So, let's talk.
John may have his own catalog of things he got wrong, very wrong, catastrophically wrong, this-ship-is-unsinkable wrong, but for my money, the leader of Balloon Juice truly hit the acme of wrongness when he declared the Wingularity Peak Wingnut (per Bumper @1)
That announcement came before John recklessly handed the keys to the blog to yours truly, so I'm not sure of the date, but I was talking to Tim F. (last night, as it happened) and he recalled that it was just after Obama won in 2008.  The reasoning, I guess, is that after all the crap dumped during the campaign there was nowhere crazier to go.
Well, we all know how that turned out, which is the Wingularity is an ironic category here.
But every now and then you get a glimpse into the soul of the feral crazy so pure, that satori strikes.  It's like the moment Cantor grasped there are infinities beyond infinities.  It's could drive the sane mad, or at least to the liquor cabinet, there to wonder whether mixing bourbon, peppermint schnapps and doloroso sherry is as bad an idea as it sounds.
Thus it was today when I learned…
…oh hell.  Read it and weep (via TPM):
Compulsory education laws have resulted in parents disengaging themselves from the responsibility to oversee the education of their children and have caused schools to falter under the burden of being all things to all people.

Those points are among the arguments made by Sen. Aaron Osmond, R-South Jordan, in an article posted Friday on the blog of the Utah State Senate, in which Osmond called for the end of compulsory education in the state.

…

"Osmond told the Deseret News that there is a need to shift the public mindset to viewing learning as an opportunity as opposed to an obligation, while also reinforcing the idea of liberty and choice.

"Let's let them choose it, let's not force them to do it," he said. "I think that's when you start seeing the shift."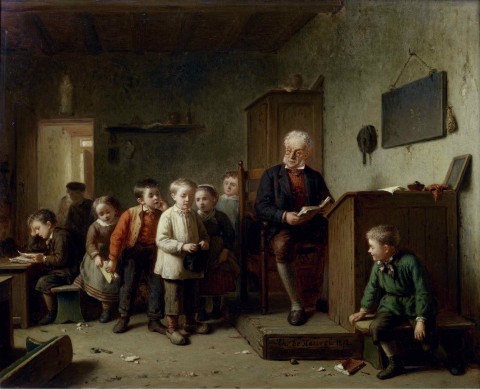 Buried in the Deseret News story linked above is the tell.   A brief disapproving mention of school based sexytime education, which suggests that Senator Osmond wants parents to be unfettered by the state as they teach their precious ones about aspirin between the knees and all that.
But Osmond's crazy runs deeper than just the usual obsession with the moist bits.
I love — and I mean that — the utter clarity that comes whenever someone from the Wingnut side lets the mask slip just a bit too far..  The problem with education isn't that we've under resourced our schools, or that we ask them to do to much.  It's that too many people are being forced, Forced I Tell You, to get down with that book-learning stuff.
In other words, your modern Republican party:  Life — and the simulacrum of democracy — would be so much easier if more voters were more ignorant.  Fastest way to get there?  Less schoolin'
There is no wingularity.  There cannot be.  No Schwarzschild radius of stupid/vapid/batshit crazy exists.  It's turtles all the way down.
May the Flying Spagetti Monster Bless These United States.
Image: Theodor Bernard de Heuvel, The Classroom, 1872.