I know you all love the name Mongo, but I have dropped it. This is no dumb cat and he deserves a far more regal name. It simply does not fit.
At any rate, spent about 15-30 minutes just sitting quietly in the room with him, and after a little bit he started to peek his head out from under the bed, and then i dangled my fingers and he came right out and starting rubbing his cheeks all over me. I didn't have my camera, but I grabbed it and got a couple shots. Right now, making him feel like he is at home is more important than taking pics, so this is the best I could do. He's only been here a few hours, so I am kind of shocked he is this outgoing already. At any rate, here he is making a beeline for the food bowl: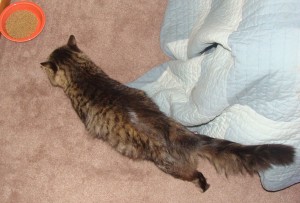 NOM NOM NOM!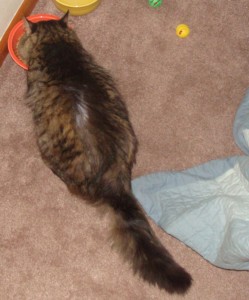 If you look closely at that one, you can see the thinning hair which may be from nerves, overbrushing, or maybe flea season. I'll have my vet check. You can probably also see the matting. Here is a good pic of one of his ginormous mitts: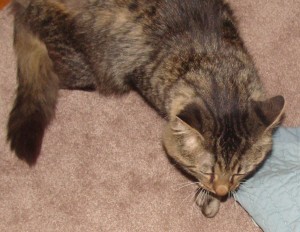 Here he is just sauntering around in that special way only cats can: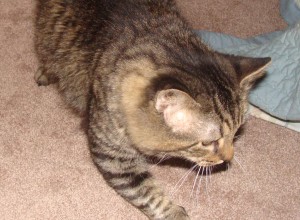 Here he is sniffing and checking me out some more: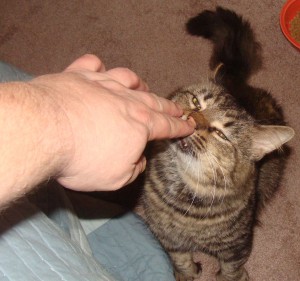 He's got these big fleshy cheeks, which I have never seen before, and other than his belly, under his chin and those cheeks seem to be where he likes skritched the most: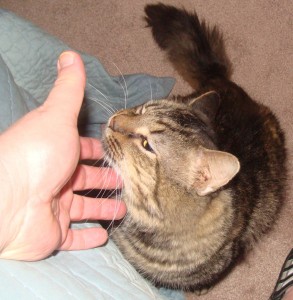 Bonus- as a cat with an extra toe, he appears to be sensitive and unafraid of my mangled meat hooks that pass for hands. I don't know how others do it, but with new animals I just stick my mitts out there and let them come to it and rub on it at their leisure. Also, like Tunch, has a thing for toe-licking: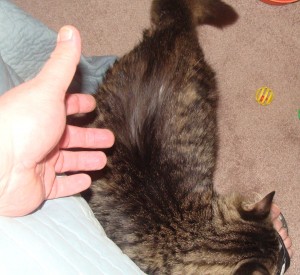 He's going to be just fine. He's a little sketched out and there is going to be some trauma getting used to a new home and having his boys removed and some grooming, but he really does not recognize yet that he just hit the kitty lottery and this was probably the best day of his life so far.