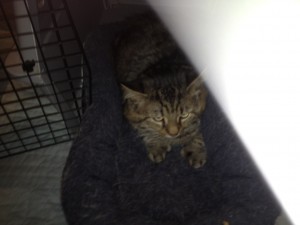 Say hello to the new member of the pack. I actually read his name wrong on the card, and it isn't Beggar, it is Bugger, which is even worse. Oh, and he's also a polydactyl.
He's afraid right now so this is the only picture you get.
*** Update ***
I forgot his story. He is six years old and was dumped by yet another sociopath who was moving and left their pet behind. He lived with two dogs, so that is good. He hasn't been fixed, so that will have to happen this week or next, and I have to get him to a groomer because he has some thinning hair on his spine (I think from nerves maybe) and some matting on his back near his tail, so we are going for a clean shave soon.