Every Christmas for the past 3-4 years a very kind woman in NYC has sent Tunch packages of hand-knitted catnip balls, and let me tell you, this is some weapons grade shit. I have no idea if it is Schedule 2 or if it comes from Humboldt County, but seriously, two catnip balls would last Tunch the entire year. SOOOOO, naturally, I grabbed the one I had left and sprinkled catnip on it: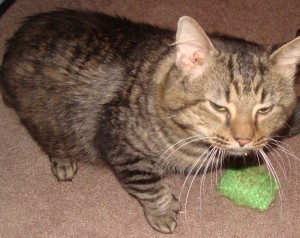 Clearly, this is the good shit: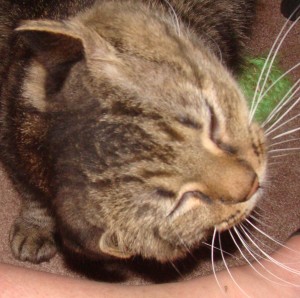 After I had basically roofied Boss, he started to do the patented Tunch/fat cat belly flop so I could rub his belly: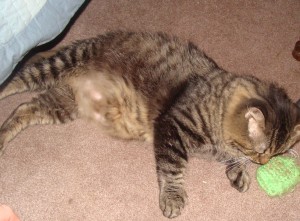 However, every time I tried to pet him, he would stand up as if to say "Dude, this is our first night. I'm not that kind of girl." Eventually he broke down: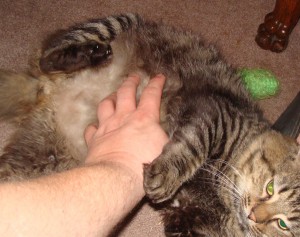 After that embarassing moment, we both stood up and said "HOW ABOUT THEM BEARS," and Boss strutted around for a bit to let us know that was just an aberration: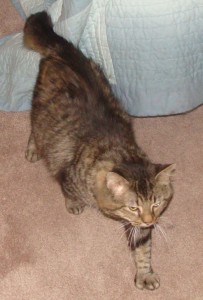 We both decided it would be best if I left the room for a bit after that awkward moment, and ten minutes later I walked by and saw this: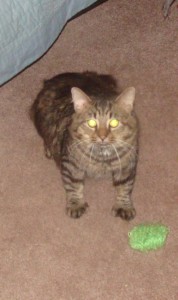 I think he may have a problem.
In all honesty, I have never seen a cat come out like this so quickly before. It's like Tunch sent him to me.
On the other hand, what have I gotten myself into with this guy? He has Tunchitude after only 8 hours.
*** Update ***
Just spent another little bit petting him and making him feel safe while the girls were in the bedroom, opened the gate, and he followed me out and is now in the home office. Frisky little monkey.