He's fitting in quite nicely. I have him locked in Tunch's bedroom like a Gitmo prisoner for now until he gets fixed Tuesday morning. Or maybe not, because swear to FSM, as I wrote that last sentence, this happened: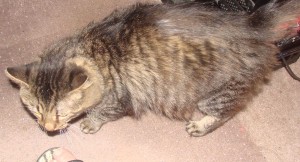 Apparently he decided he wanted to hang out in the home office with me.
This is a no bullshit cat. He has yet to vocalize other than a few pathetic meows on the way home from the shelter, and I have yet to hear him purr, but this cat is loaded with personality and completely unafraid of anything, especially people. I went in earlier this afternoon to lie down for a nap in his room, and said nothing, and within thirty seconds he had jumped up on the bed and was loving all over me. At one point, he lay down with his butt on my shoulder and his chest and front paws on my chest, and just sat there letting me pet him for a solid 20 minutes. I honestly have never seen any animal come out of its shell this quickly. Well, maybe Rosie, who never understood the concept of modesty or shell to begin with.
This guy is going to be a riot, I can tell. I have a feeling that this guy is going to follow me from room to room and basically demand attention from me.
Which is exactly what I wanted.