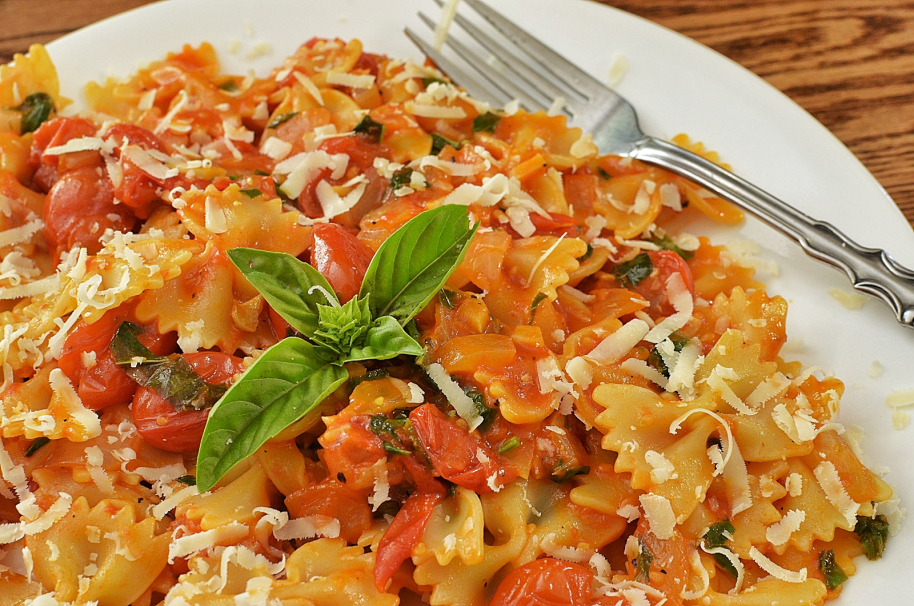 From our Food Goddess, TaMara:
Back from my trip to Nebraska, where unlike Colorado, gardens are full of veggies to harvest. We had lots of fresh corn, peppers, cucumbers, onions and tomatoes with each meal. So I thought tonight we should raid the garden for recipes. If you don't have a garden or it's late to produce (I'm looking at you backyard garden), don't forget your local farmer's market or farm stand. I really like going to local farm stands, the prices are often more reasonable than a farmer's market. Two of my local stands have Facebook pages where they list what's fresh this week and even have coupon specials.

The lovely photo above from JeffreyW is what inspired the theme tonight. Here's his simple solution for taking advantage of his prolific patio pots: Sautéed Cherry Tomatoes on Pasta (recipe here).

One of my favorite recipes during the summer is Grilled Sweet Peppers and Potatoes (click here).

And finally something a bit different and fun to do with all that zucchini and summer squash: Squash Confetti (recipe here).

And just a reminder, full menus are available on Mondays and this week the menu is all garden fresh (menu is here).

Well I'm off to the evening Art Walk, where my friends will be drumming and where the streets will be filled with local artists' creations. Tomorrow is the RiverWalk – vendors, musicians, farmer's market and lots of kids events along the St. Vrain river. What are your plans for the weekend? Planning anything fun on the grill? How is your garden coming along? Hit the comments and don't forget to share some favorite garden recipes.

On to tonight's featured recipes, Green Beans w/ Yellow Pepper Butter, Spinach-Raspberry Salad and Spicy Fruit Kabobs:

Green Beans w/ Yellow Pepper Butter

Last time I was at the farm stand, they had four different kinds of green beans and I used a mixture of all of them in this recipe.

2 tbsp butter
½ yellow sweet pepper, seeded & shredded
1 tbsp lemon juice
4 oz chopped cashews
16 oz fresh green beans, trimmed & cut
½ yellow pepper, seeded, cut into thin strips
salt & pepper to taste
saucepan, steamer

Melt butter in saucepan, add shredded pepper and cook for 5 minutes. Add lemon juice & cashews, stir for 1 minute, remove & set aside. Add steamer to saucepan, add beans & just enough water to reach bottom of the steamer. Steam beans for 5 minutes, add strips of pepper and cook until beans are tender-crisp, additional 5-7 minutes. Remove steamer and drain water from saucepan. Add all ingredients into saucepan and heat 1 minute, tossing to coat with butter mixture. Serve immediately.

Spinach-Raspberry Salad

The easiest way to wash fresh from the garden spinach (and leaf lettuce) is to fill a sink with water and soak the spinach (swish it a couple of times). Pull it out and place it in a strainer, drain the sink and repeat. With the two soaks, all the dirt should sink to the bottom. Run through a salad spinner and you should have dirt free spinach.

8 oz fresh spinach leaves
½ pint fresh raspberries
4 oz chopped pecans
Raspberry Vinaigrette Dressing
2 oz mild bleu cheese, crumbled
Serving bowl

Wash and thoroughly dry spinach & raspberries, add to serving bowl with pecans, toss with dressing and add crumbled bleu cheese.

Spicy Fruit Kabobs

You can substitute or add any fresh fruit you'd like in this recipe.

1 cantaloupe or honeydew melon, seeded
2 pears, cored
2 apples, cored
2 bananas, peeled & quartered
8 wooden skewers, soaked in water
½ cup warmed honey
½ cup warm water
¼ cup limejuice
1 jalapeno, seeded & chopped
1 to 2 tsp chili paste
13×9 glass baking dish, blender

Cut fruit into large chunks, alternate fruit on skewers, ending with banana chunks to hold fruit in place. Place in baking dish. Blend together honey, water, lime, jalapeno & chili paste until smooth. Pour over fruit. Let set during dinner (approximately 30 minutes at room temperature. Grill over low coals 5-7 minutes, basting with marinade. Serve immediately.

See you next week.