Hey VA BJers (and/or BJ political cheenyouses):
My wife and I have been talking about putting a little muscle behind our conviction that we need to engage in permanent campaign mode, and that we have to instantiate in our own choices the stuff I twitter-twatter all the time about paying attention to states other than our own true-blue commonwealth.
So, first up on the calendar, the VA gov. race.
Our question isn't about whether or not McAuliffe is a whack job or whatever.  I know he is not the beau-ideal of a modern major Democrat.  But he's what we've got to start rolling back the evils of the last few years, so he's our guy.*
What we want to know is who to contribute to for maximum useful effect:  McAuliffe himself, DGA, local groups, anyone?  My general belief is that if you want candidate X to win, you hand over the boodle to that person directly, but if there's any nuance of VA politics in general or this race in particular, I'd like to know it.
More generally, everyone: what are the crucial state races coming up where you are?  Are there voting rights campaigns that you think are doing good work that need our help?  What can we do below the level of making sure we don't have to deal with President Ted Cruz next time round to move this country off the nadir we've hit over the last couple of weeks?  Thoughts?
Last, as a reward for the goo-goo'ing above, here, by popular** demand are a pair of pictures of a cat not named Boss: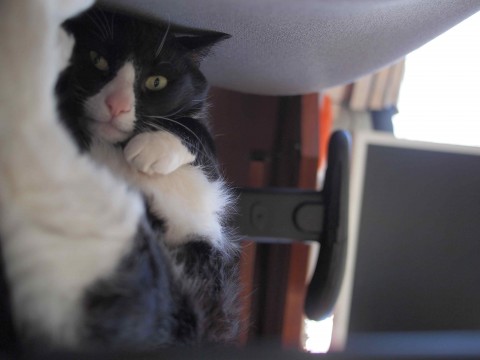 Kitten Tikka Masala above does not want me to sit to my computer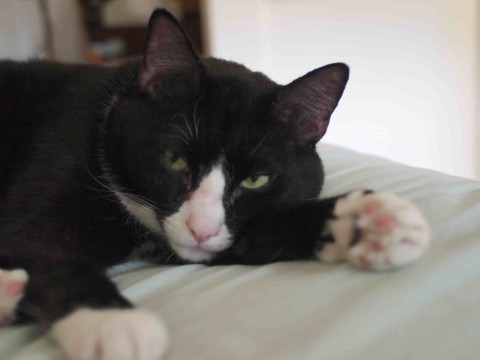 And this is simply his default, "You looking at me?" pose.
Over to you…
*I'm utterly a yellow-dog Democrat at this point, at just about every level.  There are reasonable people with whom I disagree on politics.  Some of them may even identify as Republicans.  But the Republican Party as a national and local political institution is too toxic, too ideologically committed to grotesquely failed policies, and — as we say daily in the rush to gut voting rights — too hostile to actual democracy to allow individual's private good intentions to trump the reality we've seen around us for decades.  The most reasonable imaginable Republican, once in office, plays on that team — and that side's play is too damn dangerous for a nation that hopes to make it to its fourth century.  This Republican Party has to go the way of the Whigs before there's ever a reason to support even a congenial Republican-ID'd person for any office.
**i.e., a couple of you guys.