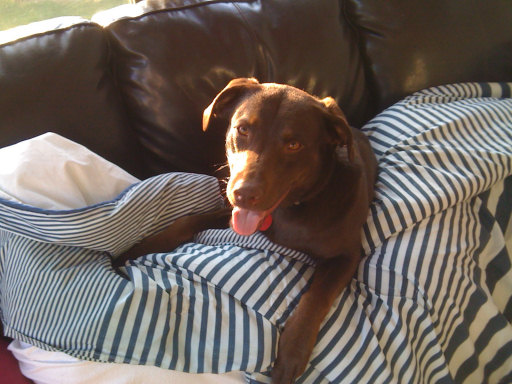 From commentor GEG6:
Just thought if you wanted to post an update about how Koda is getting along so that all the Juicers who helped out with getting her here could see her now, here are some pics.

The first is my favorite one of her. She is laying on the couch on top of John and you can just tell that she now runs our whole house.

The second is her and Otis hanging out in their favorite place, the nice cool tiles in our kitchen eating area just outside our sunroom. Otis was impatient and wary of her at first, but as you can tell from the photo, they are getting along just fine.

The third is the perfect picture of their personalities. Otis is Mr. Laid-Back and Koda is always aware, always curious, and always the center of attention.

Lastly, we have John, Otis, and Koda on the deck. Koda is giving Otis a kiss, which he hates but tolerates. We love her, all of us.

Thanks for everything, Balloon Juice!