Here are some new pics of Boss: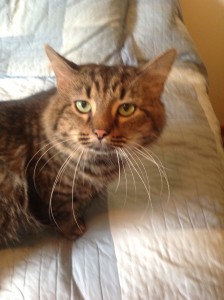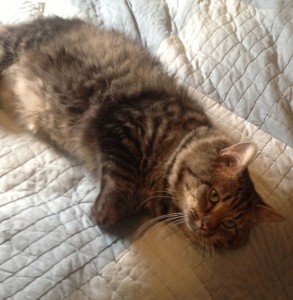 You can click to embiggen.
Do you think tomcats ever get tired of being Toms? So far, this guy has shown no interest in escaping, although he does want to follow me around the house. He's very, very content to just lounge around his room. I spent a couple hours lying on the bed read the new Chris Hayes book, Twilight of the Elites (which is a good read, btw), and all I have to do is lie down and he jumps up on the bed, puts his butt on the pillow, drapes his body over my shoulder, and puts his head and paws on my chest, and just starts purring.
He loves having his belly rubbed, but what he really loves is getting a kitty massage of his neck. I think all the hormones and that thick neck must be really stressful, and he has just decided his carousing days are over, because he really loves being rubbed there from the ears to the shoulder blades. I can't get over how thick and muscular his neck is, so I'm wondering if it causes Toms pain.
That is all. US Soccer team just demolished El Salvador.