Just talked to my brother on the phone, and apparently Boghan did something at the end of the conversation as I heard a crashing sound and Seth yelled, and before he could hang up, I heard him say "Boghan, what was that all about?"
Just kind of made me laugh how the Coles all talk to their pets like they are humans.
For the new readers, if there are any, Seth is my brother and Boghan is one of his dogs, a very magnificent Wire Haired Pointing Griffon, seen here sitting on my mom: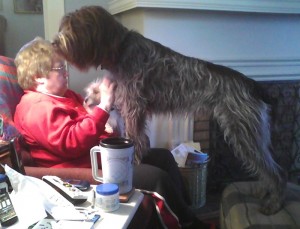 His other dog is little Ellie, who really is one of the most adorable mutts ever, who he found on the side of a country road around the same time I found Rosie. I'm telling you, these animals see the Cole suckers coming. At any rate, Boghan is quite the stud at agility drills, and on a lark, Seth spent the day training Ellie and let her compete. Remember, this is after one (1) day of training:
She is also a boss dog who spent her time on the streets and is like John Wayne- rough and tough and takes nonsense off no one. She keeps Rosie, Lily, and everyone in check. If Rosie starts to act up, Ellie will run over and get all up in her grill, basically putting her head over Rosie's flank or sitting muzzle to muzzle and dominating her until Rosie backs down and behaves. It's so funny to watch because Rosie is actually so much heavier, but like I said, Rosie was just dumped when I found her. Ellie lived on the streets and knows the deal. The Honey Badger has a whole week of tv dedicated to her.