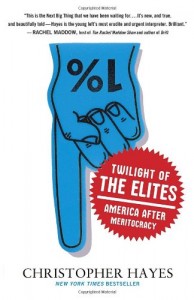 Thanks to the generosity of Crown Publishing, I have a paperback copy of Chris Hayes' Twilight of the Elites: America After Meritocracy for some fortunate member of the BJ commentor community.
Your comment here will be your entry. Only one entry per commentor, please, because if you post more than one I'll have to eliminate you from the pool. Doesn't have to be a "good" comment—Pick me or Mine or Yes is fine, if you're not feeling inspired. Newbies welcome (although, as per usual, if you haven't commented here before WordPress will hold your comment for 'moderation' until one of the frontpagers approves it, so do NOT disqualify yourself with a string of why?why?why! follow-ups).
Around this time tomorrow evening, Tuesday, I'll use a random-number generator, and the person whose comment matches that random number wins the book.
Any questions, you can either put them in your ONE comment, or email me at AnneLaurie @ verizon.net (click on my name in the 'Contact' list to the right for a direct link).
Good luck, and—GO!