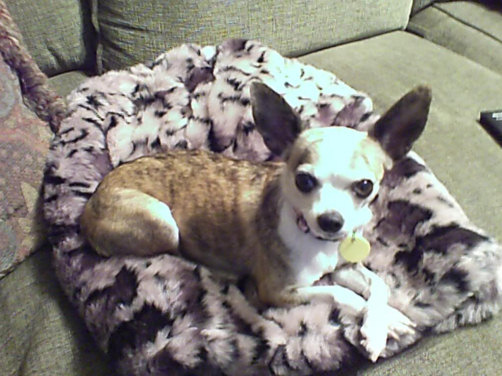 From commentor CP:
In the wake of John's loss, I thought I'd share a real difference he's made in my life and the life of one sweet little doggie. For a number of reasons, I'd been thinking about getting a dog, but probably chief among those reasons was John's steady stream of posts about how much he loves his pets. What I had in mind was sort of a mid-sized mutt, but when I went to the Save-A-Life table at PetSmart one Saturday, it was this little chihuahua that came over, climbed in my lap, and curled up there like she owned the place. While I talked to the people about what would be involved in an adoption, and all the other dogs acted silly and hyper, she just sat there quietly and let me pet her. By the time all my questions had been answered, this meek, gentle creature had overcome all my prejudices against the breed (i.e. yappy, nippy, trembly, spoiled, etc.) and stolen my heart.

I've been her "forever daddy" ever since (about 9 months now), and she's the best thing in my life. Her name is Butterbean, but she's so affectionate, I often call her Snugglebean. Chihuahuas aren't exactly known for walking on a leash, but she's great at it, and loves long walks, especially in cool weather. We live in downtown Savannah, so around Halloween and Christmas I had the best time walking all over with her and checking out the decorations on all these gorgeous old houses. I mostly get around by bike, so as a practical matter, I got a backpack specially designed as a dog carrier. Well, after a few rides in it while I ran errands, she now insists on a ride EVERY morning. That's okay–I love to see her happy dance whenever I reach for the backpack. Once we're on the road, she sits in it so calmly and just snoofles the air rushing by.

John, you have my deepest condolences for Tunch, but also my deepest thanks for inspiring me to bring this sweet, adorable dog into my life.
***********
What's on the agenda for the start of another week?