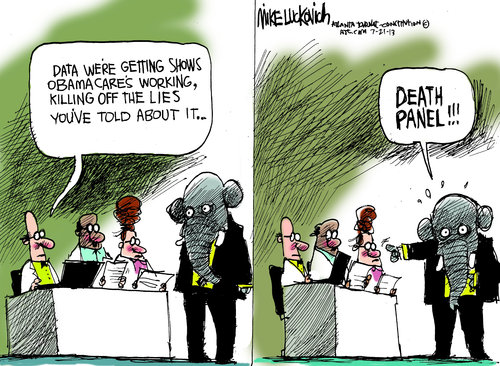 (Mike Luckovich via GoComics.com)
Not sure whether this is a good idea or not. Sarah Kliff, at the Washington Post:
The White House is enlisting the help of celebrity and entertainment officials to promote the health-care overhaul, focusing on stars who they hope can persuade young adults to purchase insurance coverage.

Comedian Amy Poehler, actor Kal Penn and singer Jennifer Hudson attended a closed-door White House meeting Monday, hosted by senior advisor Valerie Jarrett and other top White House officials, according to a White House official.

Representatives for Oprah Winfrey, Bon Jovi, Alicia Keys, the Grammys and Latin Grammys were also present, according to the official, who spoke on the condition of anonymity to freely discuss a private meeting.

President Obama stopped by the meeting to "engage artists who expressed an interest in helping to educate the public."

The White House has grown increasingly focused on signing up millions of young adults for coverage under the health law's new programs, which open for enrollment on Oct. 1. Typically a healthier demographic, young enrollees would be expected to lower the cost of health insurance if they show up in high numbers….

The White House's outreach work has faced aggressive backlash from Republican lawmakers, who have pushed back against efforts to create high-profile partnerships. The National Football League backed away from talks with the administration on the Affordable Care Act after receiving a stern warning from Republican leaders to not associate with a law marked by "divisiveness and persistent unpopularity."

But other well-known organizations are trying to ally with the White House.

Video site Funny or Die has already committed to producing Web videos meant to get the word out about the health-care law to its audience, which is generally a younger crowd. The White House will not provide any financing for the Web spots…
Granted, this is a way cooler bunch of celebs than the GOP could collect (threatening people out of cooperation is much more their skill set), but do Oprah Winfrey and Bon Jovi really attract The Youth?
Somebody persuade me that I'm over-thinking this.