My good friend Walt came back tonight at around 11ish from two weeks at the beach, and man it was nice to see him. I actually cried for the first time in four days, because he was one of Tunch's biggest fans (and Tunch loved him, too), and just going through it again brought me to tears. I know I will never get over sitting there with him dead in my arms, but I am just happy those flashbacks are fewer and farther between.
I kept dinner warm for him (that's how we roll here in small towns), so he had some eats, and then gave me this great present, a hand carved walking stick: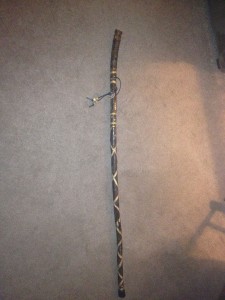 You all know how much my photography sucks, but this thing is really cool.
Guess I am off to bed, because I have to go to the vet tomorrow at 7-8 to castrate my new best friend. I feel like such a jerk when I put it that way.
Really, boss. It's in your best interest. I promise.