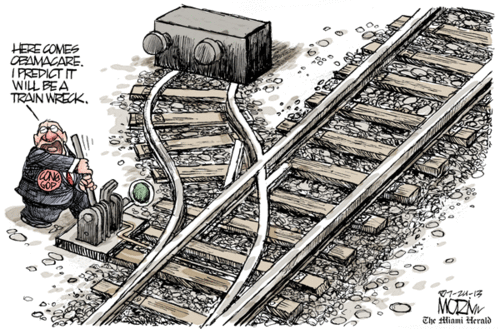 (Jim Morin via GoComics.com)
There's an old saying, "It takes skill and hard work to build a barn, but any jackass can knock one down." And a gang of jackasses, even quicker. Per Jon Chait, at NYMag:
Obama: It's Not My Fault Republicans Are Crazy
President Obama's economic speech today is putatively a broad-stroke overview of his economic vision — investing in physical infrastructure and early childhood education, restraining runaway inflation in the cost of health care and college, and marginally shifting the burden of government away from the middle class and toward the rich. In reality, it is a call for a responsible opposition.

Thematically, it is hard to build a speech around the opposition when you're president, because people expect the president to lead and set the agenda. But the extraordinary tactics of the House Republicans have created an unusual and counterintuitive situation wherein the president's agenda is mostly irrelevant. Conservatives simply refuse to negotiate with Obama in conventional terms. Their strategy is to threaten a series of crises — government shutdown, defaulting on the debt — in order to force the president to offer unilateral concessions…

Obama mounted an ideological defense of his vision of government. But mainly he dared Republicans to stop acting like madmen. The most important line in his speech is a kind of subordinate clause:

And as long as Congress doesn't manufacture another crisis — as long as we don't shut down the government just as the economy is getting traction, or risk a U.S. default over paying bills we've already racked up — we can probably muddle along without taking bold action.

That's wrapped in a plea to not muddle along and to take bold action instead, but it's also a tactic recognition that simply not manufacturing a crisis is an ambitious goal for the House Republicans….