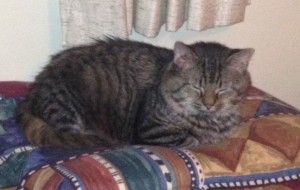 Boss has not worked. He's a lover and good boy, and Boss is not right. He'll still be the boss, but not the "Boss."
It's Steve, after the The Tao of Steve
and Steve Furness, a Steeler DT in the Steel Curtain (whose autograph I have and who I saw play basketball at a charity event in the 70's).
The cat is smart and a lover, and his eyes and demeanor require a human name, not something cutesy like Boss.
Steve. Get used to it. He is your new feline overlord.