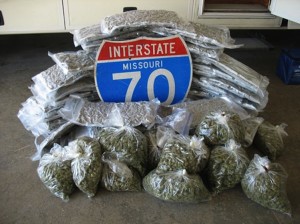 Hee. Ryan Kearney at New Republic with a rebuttal of Rep. Steve King's "drug-running illegals with calves the size of cantaloupes":
… "Lost in all the jokes about cantaloupes, though, was the real absurdity in King's quote: that anyone could conceivably carry 75 pounds of pot. True, the weight itself is not necessarily prohibitive, though it would take a very fit, hydrated person to carry that much through the desert. But dried marijuana, no matter how "dank" its buds are, is not a heavy product by volume. Which is to say, it takes a lot of pot to get to 75 pounds. How much, exactly? This picture, from a 2011 post in Kansas City alt-weekly The Pitch about a highway bust, shows exactly that weight in marijuana. No backpack is large enough to fit this much bud. You'd need at least four or five immigrants, and mango-sized calves would do just fine."
***********
Speaking of recreational intoxicants, what's on the agenda for the weekend?