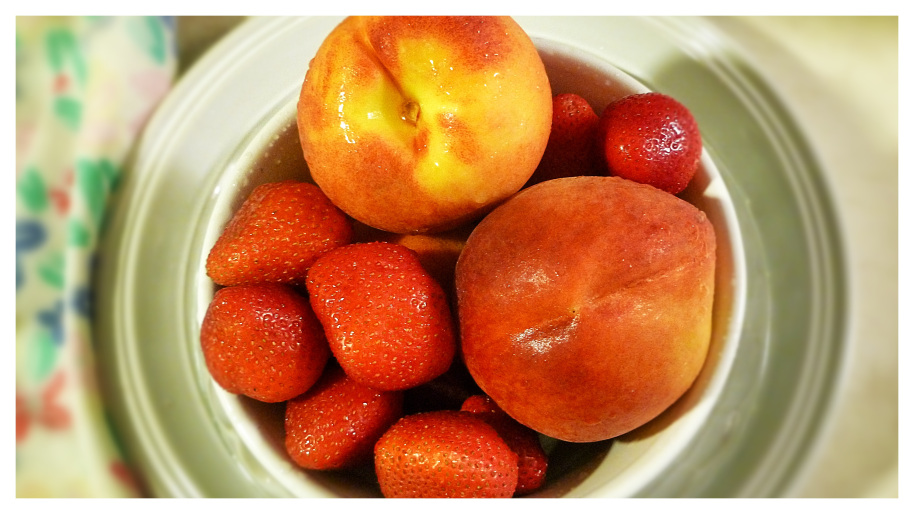 From our Food Goddess, TaMara:
It's that time of year again. Palisade peaches are ripe and ready to eat. This year's crop took a hit with a late snow in the spring, but still the stores and farm stands are full of them, though probably for a shorter time than previous years. As usual, they are deliciously sweet and juicy. I don't necessarily need to do anything special with them – I usually just halve them and eat them with a spoon.

But when you buy a large box of them and you're not fond of canning, it's time to get creative. That's why a few years ago I began to experiment and made two of my favorite things, Peach Chutney and Peach Salsa, the featured recipes tonight.

Now the strawberries…I couldn't help it, they were sitting there, all red and fragrant, right next to the peaches. I had to buy 3 lbs. As always happens, before I can finish off all of them, they become overripe and then it's time for this:

Strawberry Bread (recipe here). Quick, easy and oh, so full of strawberry flavor. But before things get that far, I am really enjoying just slicing peaches and strawberries and serving them together, tossed with a touch of sugar.

Back to the peaches. There are quite a few peach recipes on the blog, all of which can be found here.

Three I'd like to highlight are:

Mrs. J Makes a Peach Pie (click here), Kirk Spencer makes Peach Fish (recipe here) and finally, all the way from India, Tes' Peach Lemonade (click here).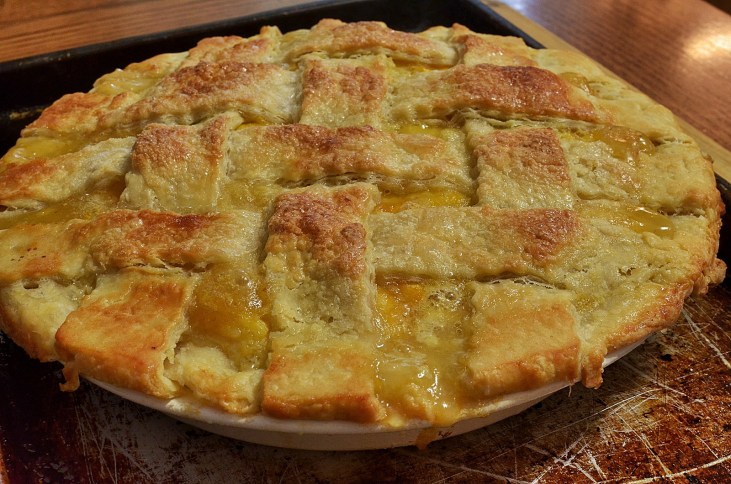 Mrs. J's Famous Peach Pie
Tonight, besides asking what's on your menu for the weekend, I'd also like to make a request for some gluten-free recipes. I have a couple of friends who have been asking me for some and while I have a few, my recipe box is limited. If you'd email me (whats4dinnersolutions at live dot com) your recipes or post them in the comments, I'd like to do a future recipe exchange featuring gluten-free ideas. So hit the comments with your favorite peach and strawberry treats and any gluten-free ideas you'd like to share.

And finally, here are tonight's featured recipes:

Either of these go well with chicken, fish or pork. The chutney goes especially well with grilled pork chops.

Peach Salsa

2 cups diced peeled peaches (2 to 3 peaches)
4 thinly sliced green onions
1/4 cup diced red bell pepper
2 tablespoons lime juice, about 1 medium lime
1 to 2 teaspoons finely minced hot or mild green chile pepper, or to taste
1 small jalapeño, seeded and chopped
1 tablespoon chopped fresh cilantro
dash ginger
dash garlic powder
1 tablespoon orange or pineapple juice
dash freshly ground black pepper

Mix together and let meld together for about 30 minutes or more before serving.

Peach Chutney

2 large peaches, peeled, pitted and chopped
4 green onions, chopped
½ cup golden raisins
¼ cup brown sugar
¼ cup apple cider vinegar
¼ tsp ground ginger or 1 tbsp minced fresh
¼ tsp chili powder
salt to taste
small sauce pan

Add all ingredients to sauce pan, heat to boiling – stirring constantly, reduce heat and simmer for 30 minutes, uncovered, until slightly thickened.

See you next week….