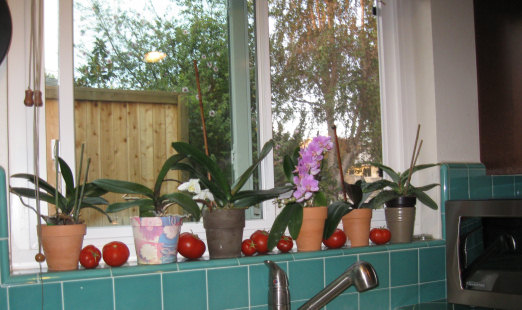 From commentor MMG:
The orchids in the kitchen window are all from Trader Joe's and I am proud of keeping them alive and even getting them to re-bloom all by myself. The one second from the left that has almost finished blooming was a gift five or six years ago, and it has bloomed every year since we got it. The one on the far right is a lady slipper orchid that my honorary niece Emily brought my mom in the hospital right before I had to tell her that she would not recover and had to come home on hospice. She gave it to her in September 2010 and it was still blooming on October 22 when mom finally passed. It bloomed at the same time in both 2011 & 2012. You probably can't tell from the photo, but it has a tiny blossom starting, so it should do it again this year. Such a nice memory of both of them.

The tomatoes are my personal evidence of global warming. I live about half a mile from the Pacific in a high-fog area and due to June gloom, tomatoes are usually just getting started by now. I don't think I've ever had this many so early in the summer. I've already had to start giving them away.
**************
Here in New England I picked the first ripe full-sized tomatoes this week — one Black Krim, one Anna Russian, and a couple of Stupices (which usually ripen a week or two ahead of all the others, but this year they're in a slightly shadier spot). Lots of plump greenies on most of my plants, but several days' steady rain/drizzle following last week's heat wave seem to have discouraged the color change. The Juliet is producing steadily, though, and a half-dozen of the various cherry tomatoes (Black Pearl, Gold Nugget, Black Cherry, Sun Gold, and a new-to-me variety called Sweet Pea) have rewarded me with a few tasty morsels every day…
How are things in your gardens this week?