Sweet jeebus, what have I gotten myself into?
It's like there was a switch flipped on Steve about 36 hours ago, and man, what have I gotten myself into? He is just vocalizing like crazy, and for basically all of last week I thought he was a mute. This chirpy little monkey has the most pathetic meow I have ever heard, but there has to be Siamese in his blood line, because he walks around following me everywhere chirping up a storm. I seriously will be a contender in the kitty slalom by 2014, because instead of DWTS, it's more like Dancing With the Fat Man and His Cat. I take a step, he swishes between my legs, I take another step, he reverses, etc. I pity my health insurance provider.
He's been on my lap all day every chance he could get, and now, the gate is pretty much a formality. Rosie doesn't even pay attention to him anymore, but I know JRT's and am not letting my guard down for six months at the least. Every time I leave the house I make sure the boss is in his room with the door shut.
Oh- and he is also infatuated with running water. Whenever I flush a commode, he'll almost knock me over to get to the rim of the toilet to watch the water swirl around. He also jumps in the tub to watch the water go down the drain when I start it up, before pulling the plug to start the shower. This love of water is going to provide me with some life-altering split second decisions in the future, I am sure.
This morning I woke up at 6:30, and Steve was playing with my fingers. Even though he has these massive mitts as a polydactyl, he grabs my hand with his front paws, and it is so soft the only thing I can compare it to is a baby grabbing your finger. So then I pet him, and he bites me.
I was taking a nap this afternoon, and I woke up because I thought I felt a feather on my face. Turns out Steve had jumped up onto the bed without me noticing (THIS NEVER HAPPENED WITH TUNCH- when Tunch jumped up it felt like someone had dropped a dumbbell on the bed), and had climbed up the backboard to the bed, and balanced his back legs on it then elevated up to have his paws on the windowsill to look out and watch the birds.
The feather I felt on my face was his twitching tail.
I'll have pictures soon of all the kids, but right now I am just focused on creating a new normal and haven't been harassing the pets with photo shoots.
Oh, and it has only been two weeks, but I can feel when he has come in a room and is looking at me even though I heard nothing. I always knew when Tunch was in the room with me- I could feel him looking at me just like I know Steve is underneath the desk to my right wondering what all those clicking sounds are as I type.
*** Update ***
Steve got a package today from one of your cats, and it had a massive bag of weapons grade catnip and a couple toys, and this note: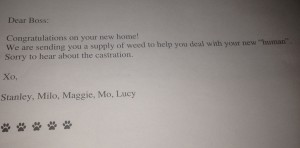 Normally I would think nothing of this, but my cat now has thumbs and oh, by the way, can open doors if you don't shut them all the way. Also too, this:
A gang of feral cats in France attacked a woman and her poodle, forcing both victims to seek medical attention for their injuries.

The cat-attack occurred Sunday (July 21) near the city of Belfort in eastern France. The 31-year-old woman was walking her dog near a wooded area when six felines set upon her, knocking her to the ground, The Independent reports.

The victim was treated for injuries at a nearby hospital where she was also given an injection for rabies. Her poodle was treated at a nearby veterinary clinic.
I'm going to have to keep an eye on this one. He has the same murderous intent in his eyes as Tunch, but I think this one would follow through even if it meant waking up from a nap.