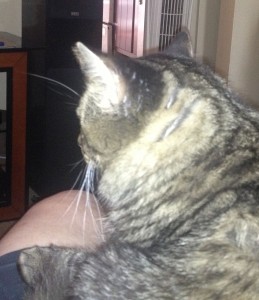 Dunno why but I keep lucking out with amazing animals. Rosie was a little rough around the edges, but now she is a super trooper.
And, ok. I'm sold. I will never have another cat that has no Maine Coon in the blood, because this guy is just amazing. He spends almost every waking moment with me, and I have accidentally stepped on his paw twice when I stopped short while walking somewhere.
And my goodness, the playfulness and the agility. Last night I pet him for five minutes while he balanced all four paws on the 2 inch wide gate that I have to keep the dogs out of his room. I found him on top of one of my speakers earlier, and that is a four foot jump onto a slick 6″x8″ surface.
And the vocalization- he talks to me all day long, chirping and mewing and just making all these guttural sounds when something interests him. When he gets stoned on catnip, he growls and gets all, well catty. You pet him, he bites you. You don't bet him, he bites you and growls. The dogs bark, you get scratched and he growls.
This is an amazing cat. I may go back for another Maine Coon rescue in a year or two so he can have a buddy. They are that awesome.