Via TPM, exhibit A:
As expected, Senate Republicans filibustered legislation Thursday to simultaneously keep the federal government open and invest in infrastructure and housing projects — a significant setback for efforts to bridge budget disagreements and avert a shutdown this fall.

The vote was 54 in favor, 43 against, falling short of the 60 votes needed to move forward. The only member to cross party lines was Sen. Susan Collins (R-ME), who helped write the bill and urged colleagues not to block it — to no avail.

…

Six Republicans voted with Democrats on the higher spending levels when the bill was before the Appropriations Committee: Sens. Collins, Thad Cochran (MS), Lisa Murkowski (AK), Mark Kirk (IL), John Hoeven (ND) and Jerry Moran (KS), who chairs the Senate GOP's election arm. But a concerted whipping effort by Senate Minority Leader Mitch McConnell (R-KY) compelled all but Collins to vote to filibuster the transportation, housing and urban development bill.

At a Capitol press conference immediately after the vote, Democrats, flanked by construction workers, fumed over the filibuster, accusing McConnell of arm-twisting his members and letting concerns about his reelection drive the outcome. The vote comes one day after House Republicans abruptly pulled THUD legislation from the floor, which cuts deeply into housing and transportation programs, after deciding it lacked the votes to pass.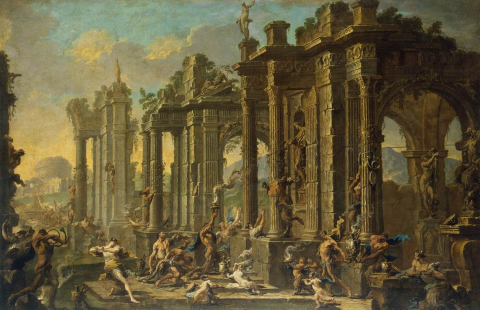 Who needs a government shut down when you can just shut down government?
Yesterday's abrupt decision to yank a bill to fund the Departments of Transportation and Housing and Urban Development off the floor, in addition to similar snags for the farm bill and a health care bill pushed by Majority Leader Eric Cantor earlier this year, amounts to a series of recent setbacks for a party struggling to adhere to spending levels outlined in Paul Ryan's budget.

…

Asked by a reporter if he was concerned that his party's recent stumbles on bills funding the government may instill a notion that his caucus is unable to govern properly, Boehner said he was "not the least bit concerned" about perception.

House Appropriations Committee Chairman Hal Rogers (R-KY) didn't mince words after Wednesday's THUD bill failure, however, lashing out at leadership for pulling the bill.

"I am extremely disappointed with the decision to pull the bill from the House calendar today," Rogers said in a statement. "The prospects for passing this bill in September are bleak at best, given the vote count on passage that was apparent this afternoon. With this action, the House has declined to proceed on the implementation of the very budget it adopted just three months ago."
I don't think this ends well for the Republicans as a party or for McConnell himself.  I even think the MSM is beginning to notice what's actually going on in Washington.  But we're all collateral damage until this hash gets settled.
Image:  Alessandro Magnasco and Clemente Spera, Bacchanalian Scene,  c.1710