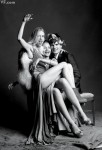 Talk about the gift that keeps on giving — here's crool sophisticate NYMag once again mocking Facebook billionaire Sean Parker's "Tolkien inspired" wedding:
Mean Bloggers Forced Sean Parker to Cancel His Honeymoon
Tech billionaire Sean Parker's massive, medieval-themed wedding earlier this summer — about which the world's longest blog post has already been written — was a resplendent festival of dorkishness. According to a new photo spread in Vanity Fair, the wedding — which was attended by the likes of Girls star Allison Williams, Square founder Jack Dorsey, and Metallica drummer (and former Parker nemesis) Lars Ulrich — featured an impromptu performance by Sting, a "feast pavilion," a nine-foot-tall wedding cake, and a lounge area with beds covered in fur pelts….
Also per Vanity Fair, for extra schadenfreude:
For the first dance, the groom serenaded the bride with a song from The Little Mermaid: "Look at this trove, treasures untold / How many wonders can one cavern hold?" Sean Parker, the billionaire Internet wizard who helped create Napster and Facebook, knew the lyrics by heart…

…In the end, the couple canceled their honeymoon to do damage control….
While Parker is said to claim both Tolkien and steampunk as inspiration, if the VF photos are to be believed, the actual production seems to have been a bastardization of late-1880s Aesthetic design as reimagined by Herb Ritts. Just imagine Oscar Wilde 'dipping his pen in acid' to write up the event…