Sometimes these decisions require a little patience: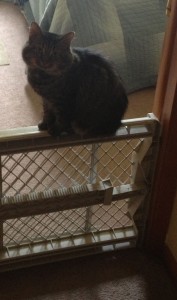 A lot of my previous assumptions about cats have changed in the last two weeks, including my assessment of the limits of feline agility. Even though he was a fatbody, Tunch still had some moves and would shock the hell out of me sometimes. I realize now, after only two weeks, that Tunch was just a novice on the bunny slopes, because I'm dealing with some very serious X Games shit here. The boss jumped from behind the lazyboy, on the ground, up to the neck of it behind my head, and he did it so precisely that he never touched me and all I heard was a little swoosh.
I've gone from a fully loaded Lincoln Town Car to a Porsche Boxter and it's kind of hysterical. Steve's cat tree showed up today, and I am debating whether I should put it together tonight or tomorrow. I think maybe tomorrow, because I am watching the Pacific again.
You?