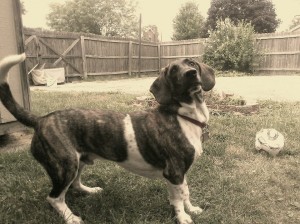 I got a text a bit ago from JenJen that her pooch Stanley (after lord Stanley, of course- it's JenJen), was attacked by another fucking pit bull while they were taking a walk. Stanley is in surgery and JenJen thinks he will make it, but she is a basket case right now. Longtime readers remember Strider and how heartbroken she was, and now she is sitting in a waiting room somewhere alone and freaked out.
And here is a preemptive FUCK you to people who defend or own or breed pit bulls. I read your bullshit excuses and when I read them imagine Wayne LaPierre's voice saying them, you dickheads. Guns don't kill people, amirite? Really pit bulls are sweet if you train them right. Until they kill your brother's cat and then maul you ten years later or attack a sweet mutt on a walk with a girl who knows how to control her animals. Fuck you assholes for walking around with these lethal weapons. At least these asshole gun nuts have a fucking safety they can use. You just have the faith your killing machine isn't going to ruin someone's life, you inconsiderate pricks.
Now that I have that off my chest, long story short, she's one of us. So please send good vibes to Stanley and JenJen.
And here is a song for Stanley:
Consider my fingers crossed