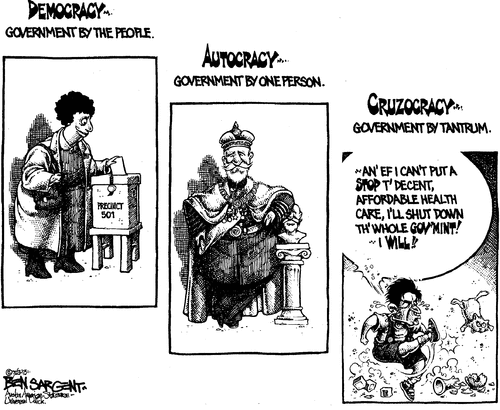 (Ben Sargent via GoComics.com)
So, let's attack a target we can all agree deserves it. From Alex Pareene, at Salon:
Ted Cruz does not care about you, Republican "grown-ups"
… To all these critics, the only reasonable response is, hope you enjoy this bed you made for yourselves. Ted Cruz is the right man for the decadent decline stage of the conservative movement, which has always encouraged the advancement of fact-challenged populist extremists, but always with the understanding that they'd take a back seat to the sensible business interests when it came time to exercise power. The result has been a huge number of Republican activists who couldn't figure out why the True Conservatives they kept voting for kept failing to achieve the creation of the perfect conservative state once in office. That led to an ongoing backlash against everyone in the party suspected of anything less than perfect ideological purity. Meanwhile all the crazies got rich simply for being crazy. There's no longer any compelling reason, in other words, not to act like Ted Cruz, and the result is Ted Cruz…

Ted Cruz just won the Colorado Christian University 2016 straw poll and he will be a featured guest at Erick Erickson's "RedState Gathering." It's working. Your "logic" won't interest him.