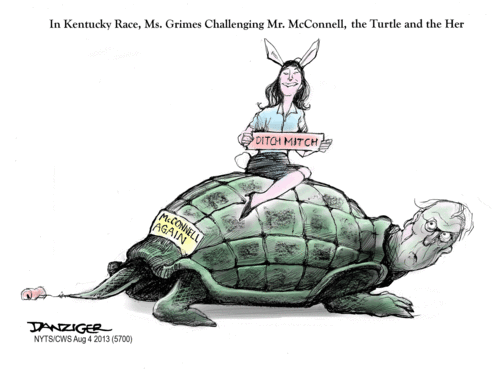 .
Anybody from the region want to weigh in as to whether we should put together an ActBlue page for Alison Lundergan Grimes? From the Washington Post:
FANCY FARM, Ky. — Kentucky's longest-serving U.S. senator, Mitch McConnell, waited for the chants of "We want Mitch!" to die down Saturday afternoon. He smiled coyly at his Republican fans, then launched into talking about the 2014 Senate race, a run for what would be his sixth term. He didn't talk about his opponent, Alison Lundergan Grimes. Instead, he attacked her father…

McConnell told the crowd gathered at the 133rd annual Fancy Farm Picnic — a quirky church fundraiser in rural western Kentucky that has evolved into a required political campaign stop — that they will have to make a decision in the coming year: "We're going to decide what kind of America we want to have, what kind of Kentucky we want to have. There are only two answers to this question: Barack Obama's vision for America — or Kentucky's."

And with that, McConnell laid the groundwork for what will likely be one of the most intense, expensive and nastiest Senate campaigns in Kentucky history. McConnell has been in Congress since 1985 and is now the Senate's top-ranking Republican, with a reputation of being confident and uncompromising….

But in that time, McConnell has seen his popularity in Washington and back home slowly erode, even within his party. This is especially true with Republican senators who were swept into office by the tea party movement and have taken strong stances against the established party leadership. Prominent conservative groups have been slow to offer their endorsements of McConnell, though he has the strong support of fellow Kentucky Sen. Rand Paul, a tea party favorite.

"The truth is, there is a reason that Senator McConnell is disliked, not only by the voters of Kentucky but by the entire United States, and that is there is a disease of dysfunction in Washington, D.C. And after 30 years, Senator McConnell is at the center of it," Grimes said in a speech that was at times difficult to hear over booing from McConnell supporters and chants of "We want Mitch."…
And, no, I'm not ready to start ratfvcking with a page for Matt Bevin…yet.