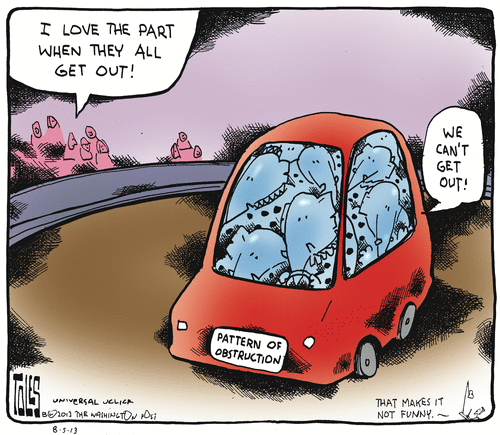 (Tom Toles via GoComics.com)
Happy Monday! From Professor Krugman, "Republicans Against Reality":
… How did the G.O.P. get to this point? On budget issues, the proximate source of the party's troubles lies in the decision to turn the formulation of fiscal policy over to a con man. Representative Paul Ryan, the chairman of the House Budget Committee, has always been a magic-asterisk kind of guy — someone who makes big claims about having a plan to slash deficits but refuses to spell out any of the all-important details… What's happening now is that the G.O.P. is trying to convert Mr. Ryan's big talk into actual legislation — and is finding, unsurprisingly, that it can't be done. Yet Republicans aren't willing to face up to that reality. Instead, they're just running away.

When it comes to fiscal policy, then, Republicans have fallen victim to their own con game. And I would argue that something similar explains how the party lost its way, not just on fiscal policy, but on everything.

Think of it this way: For a long time the Republican establishment got its way by playing a con game with the party's base. Voters would be mobilized as soldiers in an ideological crusade, fired up by warnings that liberals were going to turn the country over to gay married terrorists, not to mention taking your hard-earned dollars and giving them to Those People. Then, once the election was over, the establishment would get on with its real priorities — deregulation and lower taxes on the wealthy.

At this point, however, the establishment has lost control. Meanwhile, base voters actually believe the stories they were told — for example, that the government is spending vast sums on things that are a complete waste or at any rate don't do anything for people like them. (Don't let the government get its hands on Medicare!) And the party establishment can't get the base to accept fiscal or political reality without, in effect, admitting to those base voters that they were lied to…

What makes this frightening is that Republicans do, in fact, have a majority in the House, so America can't be governed at all unless a sufficient number of those House Republicans are willing to face reality. And that quorum of reasonable Republicans may not exist.
***********
Apart from that, Mrs. Lincoln, what's on the agenda for the start of another week?