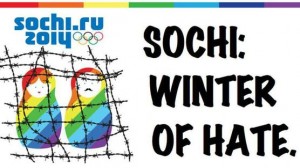 Via Paul Constant, here's George Takei:
It's been bubbling for some time, but the controversy over Russia's draconian "gay propaganda" law has now boiled over.Last week, Russia's Sports Minister confirmed that the country intends to enforce its laws against visiting LGBT athletes, trainers and fans, meaning anyone even so much as waving a rainbow flag (and I presume many men enthusiastically watching and dramatically commenting on figure skating) would be arrested, held for weeks and then deported.Given this position, the IOC must do the right thing, protect its athletes and the fans, and move the 2014 Winter Olympics out of Russia….

There have been urgent calls for boycotts of the Olympics and of Russian exports like vodka. These are understandable: It just doesn't seem right to see any of our dollars flowing to that nation. But a boycott of the games would punish athletes who have trained for years to participate, and a boycott of Russian vodka isn't going to effect the kind of change needed. Besides, with Russia's confirmation that it will enforce its law, our LGBT athletes are in real danger, and their safety must be paramount…

NBC and the corporate sponsors of the Olympics should be paying close attention, too, and should get behind the "Move the Olympics" movement now, while there is still time to do so. If the Winter Olympics proceed in Sochi, Russia, all of the goodwill they have spent millions to build will evaporate in noisy protests, boycotts, and terrible publicity. I personally will be beating this particular drum loudly, as will many other LGBT actors, activists and allies. Trust me, if you are a corporate brand, you do not want to be associated with the Sochi Olympics….

There is a petition gathering strength demanding the Olympics be relocated to Vancouver, which played host in 2010. All of the facilities are still in good condition, so this would likely be the easiest of possible alternatives. If you agree, and I hope you do, please take a few moments to sign the petition here. With enough support, maybe the IOC and the sponsors will realize that this is a disaster in the making, and the best course is to move immediately and decisively to relocate the Winter Games of 2014.
Much more at the link.
From what I've seen, those LGBT athletes who've spoken out are not in favor of state boycotts — there's a brief window for these guys to contend, and anyone competing at the Olympic level has already worked harder and made more sacrifices than most of us can understand. The "Jesse Owens 1936 / Mexico City 1968 " option of using coverage of the games to proclaim LGBT human rights has been more popular. But if the safety of all the visitors, gay or merely gay-friendly, can't be guaranteed, what then?