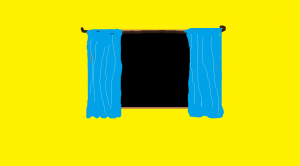 Scoff if you must (and some of you will), but this blog is a community of sorts, and many of us have had a tough time lately. One thing that continues to amaze me, not just at Balloon Juice but in life generally, is the range and diversity of how people deal with anger, sorrow and pain.
Some people drink themselves into a stupor. Some people eat or smoke too much. Some people loll in front of the TV until they nod off. Some people read all the time. Some people create – food, art, prose, poetry, needlepoint, knitting, etc. Some people focus on their families or pets. Some people shop. Some people pursue romance or at least sex. Some people drive around aimlessly in a car or on a bike or wander around in the dark on foot.
With the exception of knitting, I've engaged in every single one of those activities at some point as a way to convince myself to keep putting one foot in front of the other. Obviously some of these activities are more healthy than others, but I'm not sure it's the activities themselves that are important as a way to get through a shitty time but rather the distraction they provide.
Those are all ways to stay occupied and/or distracted, so "stay occupied and/or distracted" is the underlying strategy. Maybe every coping strategy is a species of this, but I'm not convinced that's true. For example, I've been on a few heinous hamster wheels of suck in my life where I had to force myself to stop just occupying my time and make a radical change to disembark. I had to leave that horrible job or get out of that toxic relationship, etc., even though it was scary as hell at the time.
That was the only way back to (relative) mental health. I'm not suggesting that making a radical life change can cure clinical depression, which I believe is a chemical imbalance that is just as much a medical condition as diabetes. But I think we do have the power, in some cases, to change our lives in a way that can jolt us out of feeling so sad or angry or downtrodden or ashamed. And doing so can improve our overall mental health, just as lifestyle changes can mitigate the course of certain types of diabetes.
So even though I'm afraid of where this thread might go, I'm going to ask anyway: Have you ever found yourself languishing on some horrible hamster wheel of suck and found a way to change your thinking and/or actions enough to get off of it? In a world that is so filled with sadness, impermanence and pain, what makes you keep passing the open windows?