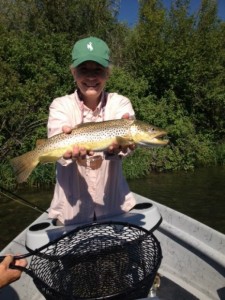 Sometimes you just need to point and laugh (via Benen):
Senate candidate Liz Cheney improperly received a state resident fishing license based on an application with incorrect information, according to Wyoming Game and Fish Department records.

Cheney, who last month announced she will challenge Sen. Mike Enzi in the 2014 Republican primary, received her resident license just 72 days after closing on her Wilson house in May 2012. State law requires residents live in the state 365 consecutive days before they can receive a resident hunting or fishing license, which are cheaper than out-of-state licenses.

Cheney's application also lists her as a 10-year resident of Wyoming.

The Game and Fish records are incorrect, Cheney told the Star-Tribune.

"The clerk must have made a mistake," she said. "I never claimed to be a 10-year resident."
Blaming the clerk is the cherry on top, because it's obvious to everyone who isn't paid to shill for Liz that she was trying to use that license to prove that she's not a carpetbagger. If you think this is a nothingburger, think again: hunting and fishing are huge in Wyoming, and this will dog her until she either loses to Enzi or quits.
Something tells me Mike Enzi has a friend at Game and Fish, which is conducting an "ongoing investigation" into whether Liz is going to get a fine. Lesson one for Liz: real politics is a hell of a lot different from lying for money on Fox News.