I have to admit, I hate myself for this, but every time Steve follows me around the house meowing (he is chattier than Tunch, but less shrill), I find myself in this scenario:
"What's up brother?"
MEOW!
"Stevie-boy!"
MEOW!
"Steve-O!"
MEOW!
"Steverino!"
MEOW!
And then I sit down and he hops up into my lap: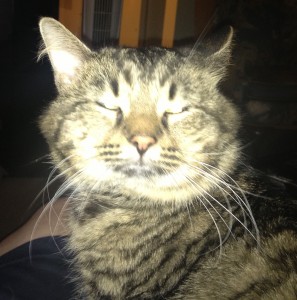 He has the most majestic whiskers, and I am the newest member of the Maine Coon fan club. It's been a month today since the recent unpleasant demise of Tunch, the greatest cat ever, and almost a month since Steve decided to come hang out and help me out, and he has taken over the house. The dogs pay him no mind whatsoever anymore and he just does what he pleases on the few occasions he is not surgically attached to me. He's really turning out to be a spectacular buddy.
This is also going to sound weird, but since he was fixed, his neck is half the size it was when we hooked up. And also, he has not sprayed, not even once. I'm going to credit the Feliway stuff I used from the day he got here. Even Tunch sprayed occasionally when I first got him, and he had been fixed for months. I just keep hitting the animal lottery every time I play.
So what are you all up to?